Fragmented Follies at the Pump House Gallery
Published: Tuesday, May 14, 2019
Fragmented Follies, an outdoor art commission by Sam Jacob Studio, is on display in Battersea Park this week.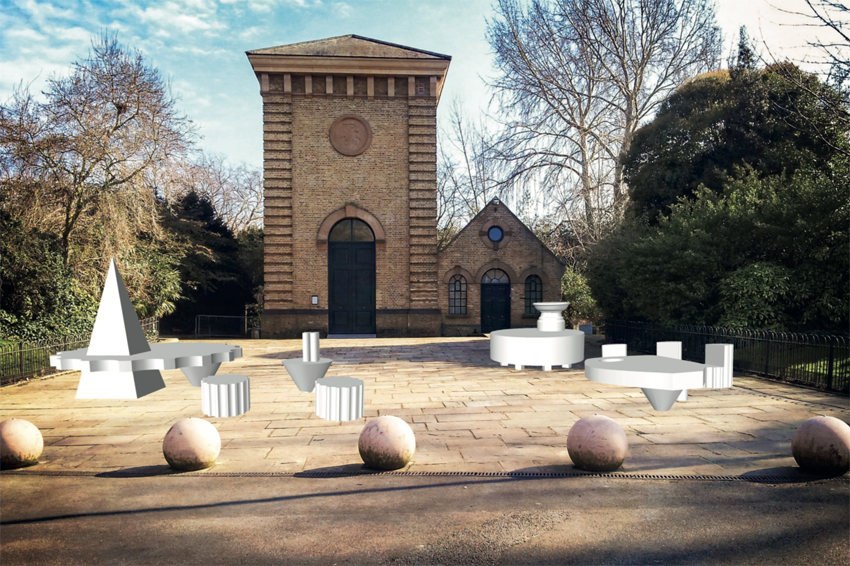 Produced from a combination of site-specific elements from the park's history, the objects reference the park's Victorian ironwork and the structures left behind from the 1951 Festival of Britain. The installation invites visitors to sit on, picnic at, and interact with these unusual forms on the gallery terrace. 
Local secondary school students, invited to engage in the creative process, worked collaboratively with Sam Jacob Studio in a photographic workshop, to compile a sourcebook of visual references from within the park, using their images to then make models used in the design of the sculptures.
The installation is accompanied by a public events programme which will be integral to the project, including a conversation with the artist on Friday evening and a free family-friendly activity on Saturday. 
The partnership between Pump House Gallery and the MA Curating Contemporary Art (CCA) programme at the Royal College of Art, provides the opportunity for students to work collaboratively with the gallery to explore the role and value of site specific commissioning. Fragmented Follies builds upon Pump House Gallery's annual programme of outdoor commissions, which has included artist Nicolas Deshaye's first exhibition of outdoor sculpture in 2018 and Samara Scott's work Developer, a liquid painting in the Pleasure Garden pools in 2016.
The project is supported by the Royal College of Art and Wandsworth Council, in partnership with Enable Leisure and Culture. The Pump House Gallery is run by Enable Leisure and Culture on behalf of Wandsworth Council.