Get physical and improve your mental wellbeing
Published: Friday, May 10, 2019
Wandsworth is giving away free guest passes to council gym facilities as part of its commitment to Mental Health Awareness Week next week.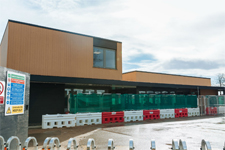 Next week's theme will be Body Image. Body image issues can affect us at any age and research has found that greater anxiety about our physique is associated with lower levels of physical activity.
One way to help prevent problems is to get physical. Participation in regular physical activity can reduce stress and anxiety while increasing self-esteem and improving people's quality of life.
If you're not a gym person, then going for a walk or any other outdoor activity can make a difference. Wandsworth is one of the greenest of London boroughs and over the next few months more than 250 park-related events will be taking place as people are encouraged to enjoy their open spaces under the #LoveParksWandsworth banner.
One of the biggest events will be the annual Walking Out of Darkness on Saturday May 18 starting in Battersea Park. Organised by the charity CLASP it is aimed at ending the stigma around mental illness and people are invited to fundraise for any mental health or suicide prevention charity. For more details visit: www.walkingoutofdarkness.com
It will cap a week of walks in the borough. There is a charge for Walking Out of Darkness, but all the others are free and you just can just turn up on the day. These include: a walk around Battersea Park on May 13 (meet outside the Battersea Adventist Church in Prince of Wales Drive at 10.30am); a walk around Wandsworth Common on May 14 (meet at the NatureScope centre behind the Skylark Café in the Common at 11.15am); a walk around Battersea Park on May 15 (meet at the Sun Gate in the park at 11am); a walk around Wandle Park on May 17 (meet at the Tooting Hub - BWW Mind - in Tooting High Street at 10am); and a walk around Tooting Common on May 18 (meet at Tooting Bec Underground Station at 8am or 10am).
Another method of improving mental health is to learn a fun new skill. The Wandsworth Arts Fringe features stacks of workshops, performances and events to inspire you and runs until May 19th. Find out more at: www.wandsworthfringe.com Alternatively, the Putney School of Art and Design hosts a variety of courses including painting, drawing, pottery, sculpture, photography and printmaking for beginners and mixed abilities. For more details visit: www.enablelc.org/psad
You can find more information about mental health and how to look after your mental health at www.mentalhealth.org.uk/your-mental-health

If you need someone to talk to urgently and in confidence - the Samaritans offer emotional support 24 hours a day on 08457 90 90 90. You can also email them at jo@samaritans.org. For more details go to: www.samaritans.org
For more information on Mental Health Awareness Week visit: www.mentalhealth.org.uk/campaigns/mental-health-awareness-week
Stay in touch and send your pictures on Twitter and Instagram at @LoveParksWandsworth and @Wandbc and by using the hashtag #LoveParksWandsworth