A day in the life of a home delivery library assistant during Covid-19
Published: Thursday, May 7, 2020
Throughout the current crisis Karen Kneller has continued to deliver books to residents who normally find it difficult to get to their local library.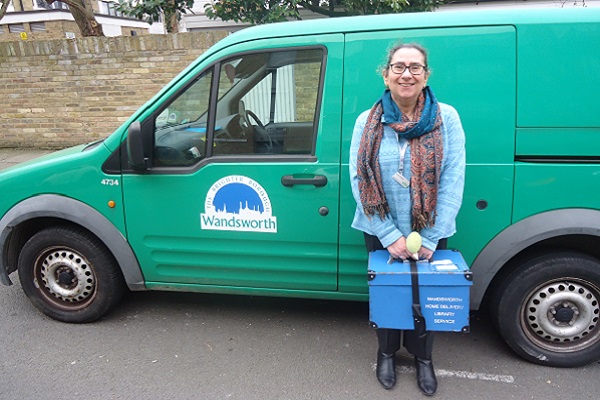 Every week the home delivery library assistant for the Wandsworth heads out to deliver hundreds of books to individuals who see her work as a 'lifeline'. We caught up with Karen, who works for GLL the social enterprise that runs the Wandsworth's libraries, to find out how her work is going during the shutdown.
"Along with my colleague Ingrid, we are still operating a full home delivery service to individuals across Wandsworth. I'm hugely grateful to Laurence, from Earlsfield Library, for stepping in to help and keep the service running, as well as to James, one of our van delivery drivers. 

On Wednesdays and Thursdays I'm out delivering books and the rest of the week I'm packing all the books for everyone, cleaning, tidying up and ringing people to say I'll be dropping the books off. I must emphasise that we're now only doing doorstop deliveries, so we don't go into people's houses, and the cleaning of the books themselves and precautions we're taking is very rigorous. When I'm packing I put on hand sanitiser, then gloves, then I get an anti-bacterial wipe and I wipe down the blue boxes I've got which I put the bags of books in, then I wipe all the books down and put them in clean carrier bags that I've bought online. I use a separate pair of gloves to pack people's books and new gloves for each visit.

We're following the 72-hour guidance, from the government, so I'm saying to our clients that if they're still worried they can then take the carrier bag inside, wash their hands, and leave it in their house for three days before opening it. When people are finished with their books I collect them and always quarantine them for at least 72 hours before they're unpacked.

People are really appreciating that we are still running a service and I've received 'thank you' cards and text messages. One of them said, "You are providing a very vital service. Without you I would go potty!" and another person wrote, "Just to say thank you for providing my lifeline to sanity. I don't know what I would do without the books." I think people are really glad that it's business as normal because I think some were really worried that it would stop because of everything.

It's nice to be appreciated because you do have days when you're a bit down and I sometimes find it hard because I'm not able to go into people's homes and have a little chat with them as I used to. A lot of these people have become my friends as I've been visiting some of them for 12 years now. One lady in Putney opens the door for me and I sit on the doorstep while she sits on the bottom of her stairs and we still have a little chat. I don't feel unsafe because I've got my hand sanitiser and gloves and I wear a mask when I go to the doors and back and I'm not coming face-to-face with anyone.
Unfortunately, we can't provide this service to everyone. I've had emails from people whose kids are driving them mad and they just want some books. I can completely understand their situation but the home delivery service is more for the elderly, the disabled and vulnerable, and families on a low income receiving free school meals. But I am directing residents to the many other resources which the library has. For example, you can join the library online, there are apps for ebooks and audio books and special resources for kids including online dictionaries and encyclopaedias while ancestry.co.uk is currently free to use from home.
I'd also like to shout out to all the children's librarians who are doing Facebook live story times, rhyme times and craft sessions. They can be found on each of the library's Facebook pages."

Wandsworth Library online customers can also choose from audio books, E-books, E-newspapers and E-magazines - all for free - spanning everything from popular fiction for adults, children and teens alike to non-fiction including cookery, gardening and technology publications. Also, on offer are free music downloads and streams from a choice of over 15 million songs and playlists ranging from opera and classical music to jazz, rock and pop.