A day in the life of a parks police constable during Covid-19
Published: Thursday, May 7, 2020
Selina Hill works as a Parks Police Constable, for Wandsworth Council, helping to cover the hundreds of acres of parks and open spaces in our borough. Besides carrying out her normal duties, such as enforcing by-laws and tackling anti-social behaviour, she and her team are now spending time keeping people safe during the coronavirus outbreak. We caught up with Selina to find how life has changed for her during the past few weeks.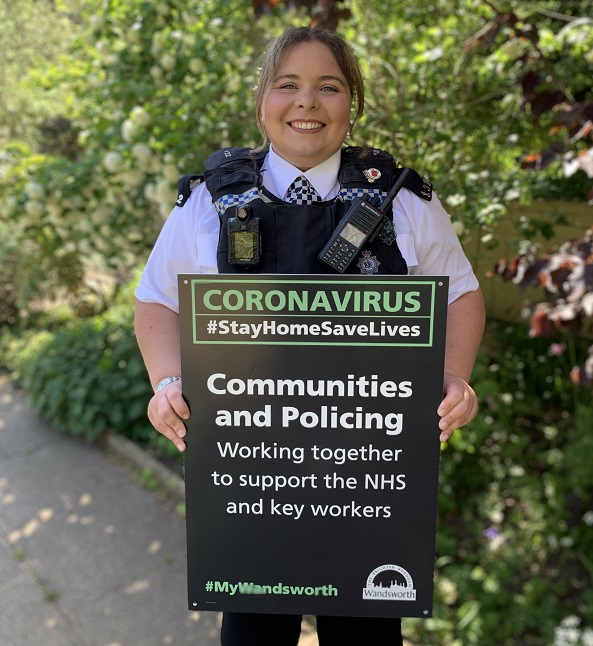 "I'm normally out in the parks by 7am. There are two shifts a day so the parks police will be out until 11pm. Myself and my partner will be doing normal duties such as enforcing the bylaws etc but we now have a lot of work on top of that as we need people to observe the government's rules (see below) on what is allowed in parks and open spaces during the crisis. And the support that we have had from the Metropolitan Police has been great. 
____________________________________________________________________________________ 

Using the parks safely 
Please remember you must: keep two metres apart from others; exercise alone or with members from your household; keep your dog on a lead at all times. You must not: sunbathe, picnic, barbecue, litter or spit; use the playgrounds, outdoor gyms toilets; meet friends or family. The police will issue on the spot fines if necessary. #StayHomeSaveLives  
 ____________________________________________________________________________________
"We are used to engaging with people, but we're now talking to many more in a bid to help everyone observe the new restrictions and regulations and ensure the social distancing rules are respected. Unlike some local authorities, Wandsworth has kept its parks open and we want people to go for their walk, job, cycle or play with their kids – that's not a problem and keeping these spaces open is good for people's mental and physical wellbeing. We want them to remain open, so this is why we need people to listen to us and not come and sit down, read a book, take a conference call or picnic. We recognise that people don't want to be stuck in a house but if you've got a picnic table and blankets out we're going to come up to you and have a word because that's exactly what we're trying to discourage at the moment. 
The majority appreciate what we're doing and sometimes people just want that little bit of explanation on the guidelines and we are happy to give that in a polite a way as possible. We've had many people stop us to say, 'thank you' and even had NHS staff thank us. But, as I say to them, I would rather tell people to go home in my job than to have the same people visit them in their job. My colleague, Althea, and I have been doing the Clap for Carers every Thursday on Tooting Common and we tell people the clap is about to take place via our loud hailer. People might not be aware it's about to happen so they appreciate being told and we all join in and some of them wave at us when we're driving away. That makes me feel really good. 
I do worry about catching the coronavirus but then I also accept that myself and the council are doing everything we can to prevent me catching the infection. We use gloves all the time and have plenty of hand gel in our vehicles. My mum used to work in a hospital so she appreciates how I'm trying to protect the NHS and save lives. She knows I like a specific hand gel so she buys me plenty of that!  
We do understand it is a hard time for many people and I cannot express enough how much we appreciate it when people do follow the guidelines as it helps us keep our amazing NHS safe and save lives. Stay at home, stay safe, wash your hands and just listen to us. All the parks police would like to thank you for your continued support."