Mayor raises £5000 for animal charity
Published: Tuesday, May 26, 2020
The Mayor of Wandsworth has handed over a cheque for £5000 to the charity Battersea.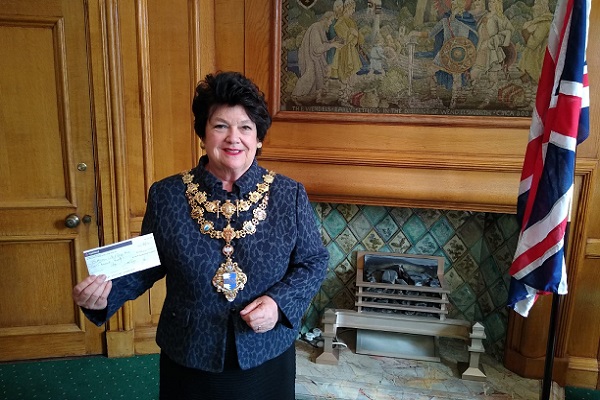 This is the second cheque to be presented by Cllr Jane Cooper as she distributes funds raised during her mayoral year. The first was given to AgeUK Wandsworth.
The Mayor has raised money through a string of charity events and gala this year, including a quiz, a 'Bop to the 80s' night and a float in the New Year's Day Parade. Over the coming weeks she will be handing out more money to other organisations.
Battersea, previously known as Battersea Dogs and Cats Home, is one of the Mayor's chosen charities with which she has a long-term relationship.
She said: "Of course Battersea is a well-known charity and most people know for its work rescuing and rehoming dogs and cats. One of the reasons I chose it is because of its record in bringing about policy and legislative change to benefit animal welfare.
"Battersea works hard to tackle some of the issues that see animals coming into its centres in the first place, including working with social housing providers to introduce more pet friendly tenancy agreements. They are committed to helping more people experience the joy and associated health, social, and community benefits of owning a pet."
Claire Horton, Battersea's Chief Executive, said: ""We're so grateful for this donation from the Mayor of Wandsworth. Battersea remains committed to helping every dog and cat that needs us, but now more than ever we need funds to enable us to continue to be here for every dog and cat.
"Like all charities Battersea is facing a significant drop in income as a direct impact of coronavirus.  We are living in extremely uncertain times, but one thing is certain, and that is our need to be here for pet owners and their dogs and cats. Last year we helped over 5,000 dogs and cats across our three centres, and tens of thousands more animals all over the country and across the world by training and helping the rescues that look after them. This donation will help us continue our vital work."