Mayor raises funds for Age UK Wandsworth
Published: Thursday, May 14, 2020
The Mayor of Wandsworth has raised £3000 this year for the charity Age UK Wandsworth.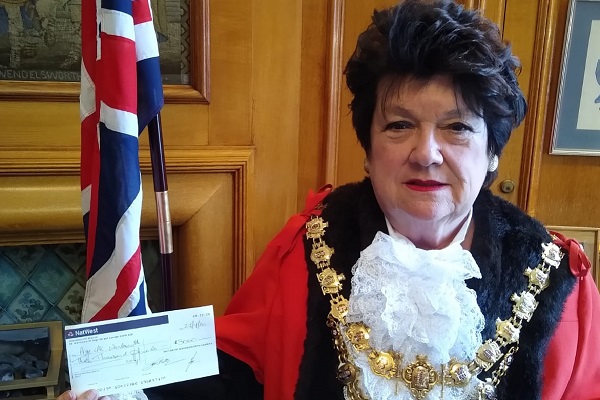 Cllr Jane Cooper has handed a cheque over to the organisation and thanked them for all the support they have offered the local community during the Coronavirus crisis.
Age UK Wandsworth has been working closely with the council to distribute food to older people who need it.
The Mayor has raised money through a string of charity events and gala this year, including a quiz, a 'Bop to the 80s' night and a float in the New Year's Day Parade. Over the coming weeks she will be handing out more money to other organisations.
Cllr Cooper said: "I have been so impressed by the work Age UK Wandsworth has been doing to help our older residents during this crisis. I also wanted to thank them for their help at the New Year's Day parade, which raised so much money for charity."
Natalie de Silva, CEO, Age UK Wandsworth said: "We are incredibly grateful to the Mayor for her continued support of our work to serve the older residents of Wandsworth. This donation will help us carry on offering emergency food parcels and telephone befriending to so many local residents during the pandemic."
In the video below Natalie de Silva and council leader Ravi Govindia talk about the food distribution hub set up in the Wandsworth Civic Suite.