Fill up your weekend with some Fringe
Published: Friday, May 15, 2020
WAF In Your Living Room
Live events: 8 – 24 May 2020
(Additional pre-recorded content and activities will be added throughout the lockdown period)
www.wandsworthartsfringe.com
Youtube: http//bit.ly/WAFTube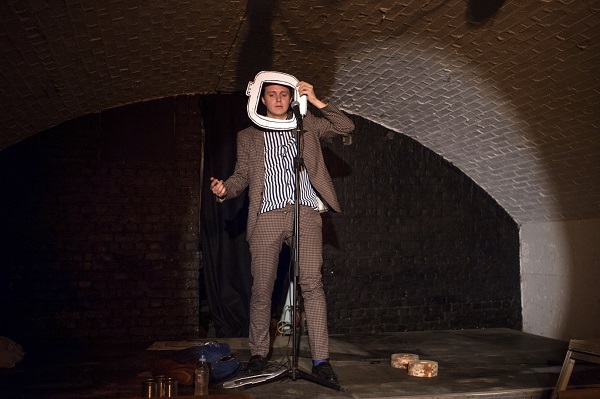 In the first five days since the festival launched on 8 May, the WAF in your Living Room programme has already doubled in size as WAF has continued to draw artists from the Fringe world – with 85 shows now available to stream live or enjoy in your own time.
Highlights this weekend include:
The Dance WAF Made. 37 residents, workers and dancers from the Wandsworth community responded to Coda Dance's call to action to create a collaborative choreography, each from their own homes. The end result is an uplifting, joyful document that shows how a community of different people, even when separated, can find a shared beat to dance to. Watch the premiere  on 16 May at 12 noon.
On Friday afternoon there will be a high energy African dance class from leading Zimbabwean-born choreographer, Bawren Tavaziva. At numerous times this weekend you can join Element Arts for a live, immersive experience where you can learn a routine from company dancers and star in your own dance show.
If the mood calls for music, why not get all dressed up and enjoy your own intimate opera concert on Saturday evening with Rogue Opera, who will take you on journey through the world's most famous operas?
Bach Club's Pawel Siwczak is also back again on Friday evening with the next instalment of 'To Survive Melancholy', his weekly live recitals of baroque harpischord music. The title of the series is inspired by a piece Johann Jakob Froberger wrote in 17th century London, and adequately captures how many of us feel during these days of isolation.
Other special highlights include a riveting monologue by Andy Warhol from Gary Roost, and a bold live performance on 15 May by Max Morton, who combines spoken word, hip hop and home video to dig into the dark depths of mental health struggles. Fragility Takeover are working with the most daring acts in theatre and comedy. Tune in every evening from 10pm for some mayhem.
There's a whole host of things to occupy the children too, including an Emoji Challenge arts and crafts workshop from Ubuntu Museum – a social enterprise that celebrates cultural inclusion – where children can express themselves at a time that's challenging for them too. Storytelling features heavily in the programme, keeping us dreaming of all the adventures we will have when we can roam the world freely again. There are plenty of tales of hope and courage from several enchanting storytellers for families to enjoy, including Tara Arts, Alena Skalova and Three Feathers Theatre Company.
Wandsworth Council's Cabinet Member for Community Services and Open Spaces, Councillor Steffi Sutters, says:
"We could have just cancelled this year's WAF, but we highly value our artists and cultural organisations and decided that helping them find new audiences during this challenging time is a vital part of the council's work. We're lucky to have an incredible pool of cultural talent here in Wandsworth, as well as theatre groups, venues and other organisations that help make this borough such a great place to live, and we are determined to actively support them.
How to tune in:
View the programme at www.wandsworthartsfringe.com
Subscribe to the WAF YouTube channel: http://bit.ly/WAFTube
Tune in to Riverside Radio
Live performances will be streamed daily between 8–24 May on the WAF website and social media channels. Additional pre-recorded events and creative activities will continue to be added throughout the lockdown period.
WAF has partnered with South West London's radio station Riverside Radio, who will be broadcasting exclusive content from the festival and interviews with artists. Tune in from 6pm on Thursday 14th; 8pm on Fridays 15th and 22nd; and from 7pm on Saturday 16th for the latest. Tune in from 7pm on Saturday 23rd May for a special best of WAF edition.

NOTES TO EDITORS
About Wandsworth Arts Fringe
Wandsworth Arts Fringe is brought to you by Wandsworth Council. Over 22,000 visitors and just under 4,200 participants attended the festival in 2019 and 94% of surveyed audiences rated their WAF experience either excellent or good. A key part of Wandsworth Council's arts and culture programme, WAF brings together over 700 creatives in an array of nooks and crannies throughout the borough to reveal a Wandsworth you never knew existed. 2020 was set to be another stellar year for WAF, with hundreds of artists due to present 150 events of traditional and experimental theatre, music, visual art, comedy, workshops and outdoor art extravaganzas across the borough.
Although the festival cannot take place as planned, the show must go on! Since the cancellation of this year's WAF due to COVID-19, innovative artists have been busily developing new projects for 'WAF In Your Living Room', a strand of the WAF programme that was introduced a couple of years ago for housebound audiences. With many events in the culture calendar cancelled, WAF In Your Living Room is a special platform for artists to showcase their talent. Audiences can support their local arts scene when it is most needed, and nurture their own family's wellbeing with the creative activities and inspiring content on offer.

For more information or images, please contact Ella Lewis-Williams: arts@wandsworth.gov.uk