Open letter from head of parks on need to maintain safe distancing
Published: Friday, May 22, 2020
The borough's head of parks Neil Blackley has penned a letter urging people to observe social distancing rules if they visit any of Wandsworth's green spaces this bank holiday weekend.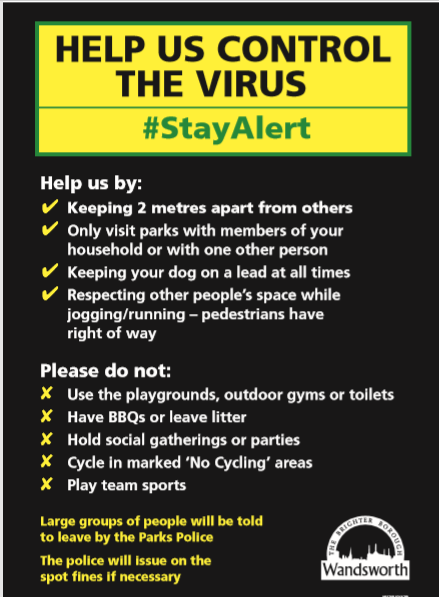 His open letter says: "I am writing on behalf of all those employed in Wandsworth's parks and open spaces who have been working tirelessly to maintain these green spaces for the public to use and enjoy during the lockdown.

"I'm pleased to say that most visitors who've visited our parks and commons throughout this difficult time have followed the Government's health advice and helped keep Coronavirus at bay.

"But the battle is not yet won.

"Therefore we are appealing to you to continue to be alert and sensible, looking out for information, listening to advice and respecting other visitors who may feel vulnerable.

"With the increased warm weather comes even greater numbers of visitors and the increased temptation to ignore the guidelines and restrictions that are still in place. These rules are vital if we are to stay safe, so please continue to observe the following.

• Continue to maintain social distancing. You must keep a 2 metre space between yourselves and others in the park.
• For those who enjoy jogging and cycling please be prepared to stop and wait for others, respect people you pass, allow plenty of space and do not run or ride at excessive speeds.
• Please use dustbins. If they are full please take your litter home with you.
• If you bring a dog to the park please keep them on a lead. This ensures they can't run off, affecting other people's use of the space, and meaning you may have to break social distancing guidelines to retrieve them.
• Playgrounds, outdoor gyms and toilets remain closed. You must not use them and if necessary plan for this before you visit.
• Do not bring barbecues to our parks. They are not permitted under any circumstances
"We are fortunate in Wandsworth to have such brilliant green spaces to enjoy. My colleagues and I fully understand how valuable they are for your wellbeing, exercise and the opportunity to connect with nature.
"Please continue to play your role in combating Covid-19 and supporting others in our community so that parks and open spaces can remain safe and enjoyable places to visit.

"Thank you"