Planning application for new all-weather sports pitch and better children's play facilities at the Tooting Triangle
Published: Tuesday, May 19, 2020
Councillors in Wandsworth will tonight consider a planning application that would see improved sports and leisure facilities on Tooting Common and safeguard the future of children's stay and play learning activities at the Tooting Triangle.
At tonight's (Tuesday) planning applications committee, councillors will be asked to determine plans to replace the existing floodlit outdoor artificial sports pitch at the Triangle site.
If the application is approved, the adjacent buildings would also be revamped, modernised and combined to offer changing rooms, showers, a café, publicly available toilets and a children's recreation and play area, including an extended outdoor play area.
As part of the proposal, part of the revamped building would also be given over for use by The Balham Amateur Boxing Club which has been using the Triangle as its home since early 2009 when it was forced to quit its previous gym.
The decision to seek an improvement in the facilities at the Triangle was endorsed in November 2018 , following earlier public consultation, when the council's finance and corporate resources overview and scrutiny committee formally backed plans to replace the existing artificial pitch and revamp its adjacent changing rooms and community facilities.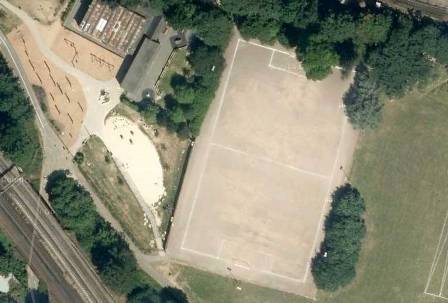 The Triangle's existing all-weather floodlit pitch, pictured here, which covers an area of some 3,800 square metres, was first built on the common in the 1960s and needs a complete overhaul. The playing surface is badly worn and is largely overlooked and ignored by local schools and sports clubs because it's in such a poor state.
Under the proposals the existing artificial surface would be replaced with a new high-quality all-weather pitch which could be used for a range of different sports. Sensitive floodlighting would also be installed to allow longer playing times for local, schools, clubs and teams.
The proposals to modernise the changing room and community facilities will also deliver upgraded indoor and outdoor space for the Triangle's popular stay and play sessions for young children and toddlers.
Councillors have reiterated their commitment to keeping the Triangle's important children's facilities open and available to all local parents, with fully trained staff providing stay and play sessions.
If the plans are approved, funding for these improvements would come from a commercial partner which would be offered a 25 year lease on the site in return for substantial investment in the new all-weather surface and improvements to the building. This would mean these improvements being provided at no cost to local council taxpayers. The council would retain the freehold and remain in control of the site.
Although the decision to proceed with these proposals was made at the end of 2018, because they relate to common land, the proposals will not only require planning permission, but also consent from the Government's planning inspectorate.