Thank you for thanking them
Published: Friday, May 22, 2020
Thanks to everyone who passed on their best wishes to Wandsworth's schools and teachers on national Thank a Teacher Day.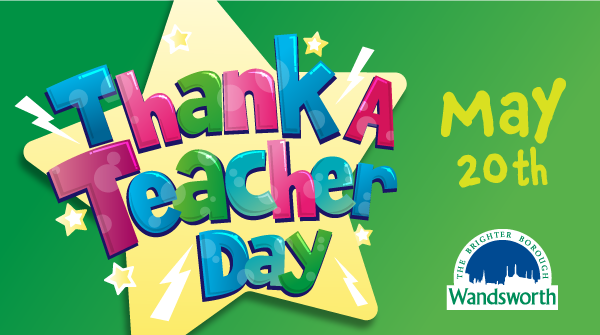 On our social media channels we asked you to tell us your favourite teacher, but many of you wanted to thank all the teachers in your child's school. Here are some of the responses:
Miss Alcock yr1 teacher in Albermarle Primary School -always so calm and reassuring nothing is every to much trouble and my son Albie adores her
I would like to thank Miss Donegan from Allfarthing Primary School who has always been a fantastic teacher and very supportive, especially in these difficult times x
Mrs Jones (Year 2 teacher) at Beatrix Potter! Although my daughter isn't there anymore, she joined after an awful experience elsewhere & Mrs Jones transformed her. I will always be thankful! All the other teachers at BP are amazing, too, but Mrs Jones is incredibly special
Miss Himsworth from Hillbrook Primary school! She is just amazing and has supported my daughter brilliantly throughout this school. She is one in a million xx
Miss Murphy Holy Ghost. She's just so amazing, relatable, uber cool and upbeat and has been a blessing with helping Year 6 in lockdown. My son and I will miss her when he leaves xx
My children have been taught by some excellent teachers at John Burns Primary School so I'm going to nominate three of them on #thankateacherday for making such a positive impact, and for being approachable: Miss Ali, Miss Williams & Mr Bowman
All the teachers at Paddock SEN secondary and primary school .we are a great team.
Everyone Riversdale Primary School is exceptional and working tirelessly at the moment under such tricky circumstances but have to highlight Henry and Helen as my daughters' teachers, and head Amy.
Teachers and TAs and senior team at Riversdale Primary School for providing daily updates on school activities, keeping children of keyworkers safe and keeping our children busy with work to do on Google classroom and making sure everyone has access to the IT. The weekly calls to the kids are so lovely to show they care.
I would like to thanks teachers of Ronald Ross Primary School ,they are so helpful and loving,we all are very colourful family of Ronald Ross love them all and miss them so much Thanks to all
An enormous thank you to @Renniesherrie and all the teachers at St Cecilia's Wandsworth for the fantastic work they've been doing to keep our kids safe and educated through Covid19
All the teachers, support staff, site staff, cooks and cleaners at St Michael's who have keep the school going and students engaged in and out of school and are incredibly busy preparing for the children's return. We miss you all and hope to see you all soon (socially distanced of course). What a great school community!
I would like to thank Mrs Barron and miss O'Neill , in reception, Southmead Primary School for all their hard work in these times
Ms Patel and Ms Kelly at Both have been brilliant and so encouraging during this time.
Miss Lane Swaffield Primary really goes 'above and beyond' she is so encouraging and helpful and calls us weekly to check on us as a family not just my daughter's education, thank you Miss Lane and in fact all the year 2 teachers! Xx
Thanks to the lovely teachers at Swaffield nursery. My daughter misses them lots. They have been a life saver with activities and tips to keep the kids busy and happy during lockdown!
Another shout out for the whole of Swaffield Primary. My daughter loves everything about her school.
Another big thanks for Swaffield - the Nursery teachers are so lovely and caring, the kids adore them!
Impossible to choose. So very grateful for the wonderful team at Swaffield Primary!
Ms Suarez - teacher in the ASD Base provision at Tooting Primary School, works her socks off and cares for the children, is a credit to SEND community.
All the excellent teachers at WEST HILL PRIMARY SCHOOL, especially Ms Corsan & Ms Narula - making a positive difference, and always caring about their students. Thanks
Sharon Mallison And Tina Stephens from Wimbledon Park Primary are the absolute bees knees!!!! Edo adores you and we can never be able to thank you enough for everything you've done for him! We hope to be able to say bye to you before the summer term ends and if not we'll see you around the hood! So much love to you both x
Cllr Will Sweet, cabinet member for education and children's services said: "Thanks for all your responses. Wandsworth Council has always been grateful for the work of the teachers in our schools, and we're especially impressed by the ingenuity and dedication to keeping children learning during the lockdown.
"To all our schools and every one of our teachers, we would like to say a heartfelt thank you."
The responses will be forwarded on to the relevant schools. If you would like to add your comments post them to one of our social media feeds.