Power to Connect marks one year with new skills scheme
Published: Thursday, April 22, 2021
This week Power to Connect, an initiative launched by the council and Battersea Power Station to provide laptops and data vouchers to local families, has celebrated its one year anniversary and announced plans to launch a Digital Skills Pilot Scheme.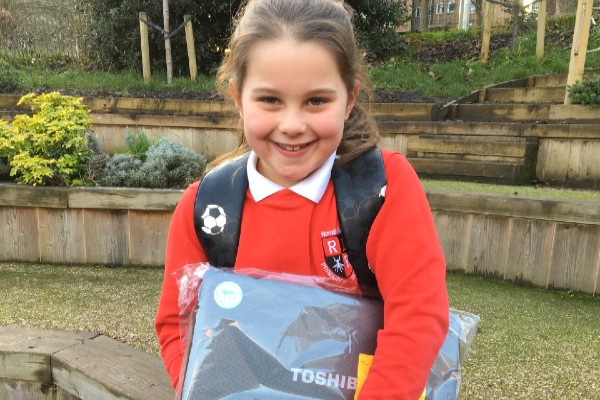 During an unprecedented year which saw families depend on computers and access to broadband more than ever, Battersea Power Station and Wandsworth Council quickly became aware of the number of children struggling to continue their school work from home during the first national lockdown, and Power to Connect was launched as a direct response in April 2020.
The laptop and tablet refurbishment project became an independent Community Interest Company (CIC) in May 2020 and since launching has collected over 1,200 unused fully working laptops and tablets, refurbished them as Google Chromebooks and donated the devices to local organisations and more than 76 schools in Wandsworth.
Battersea Power Station also donated £10,000 to Wandsworth Council at the beginning of the campaign, to provide £10 data vouchers to ensure local families could use the donated devices to stay digitally connected.
In total almost 5,000 laptops have been distributed to Wandsworth families during the pandemic through various schemes, including direct donations from the council.
'Practical support has meant so much'
Councillor Jane Cooper, Mayor of Wandsworth, said: "So much has been achieved by the Power to Connect campaign in just one, very challenging, year. This kind of practical support has meant so much to local families and schools and we'd like to thank all the volunteers and organisers whose efforts helped make this scheme a success.
"The Council has managed to donate hundreds of laptops over the past year as well as providing a base for volunteers to refurbish and distribute the devices - and we're looking forward to supporting the project as it evolves to meet the community's needs."
Sarah Banham, Head of Community and Sustainability at Battersea Power Station, said: "COVID-19 has put the issue of digital poverty on the nation's radar and the creation of volunteer led initiatives like Power to Connect across the country shows that as a nation we want to tackle this issue.
"Since launching last April, the level of support we have received for Power to Connect has been incredible. We are extremely grateful to the IT and transport volunteers from our local community who give up their time each week to collect, update and deliver devices. Battersea Power Station would also like to thank our shareholders, staff, business partners, Wandsworth Council and members of the local community for their generous donations, without which, launching and continuing the good work of Power to Connect wouldn't be possible."
Keeping safe online with new pilot scheme
Power to Connect also plans to develop a Digital Skills Pilot Scheme, which will be led by the project's IT volunteers, to deliver sessions in schools and at community spaces to ensure families who have been given a device are confident enough to be able to use them correctly, look after the device and keep themselves and their children safe online.
Isabel Chapman, Director at Power to Connect, said: "We are in the process of evolving Power to Connect from a COVID-19 response project into a robust organisation that supports local families to engage digitally in the long term, as well as continuing to coordinate the sustainable redistribution of devices to those who need them most, within our community. As part of the Digital Skills Pilot, we plan to work with our Wandsworth school partners and community organisations to support parents to be digitally confident with the devices we have provided. If technology is the great equalizer, everybody needs the skills, confidence, devices and data to sustainably access it, during COVID-19 and beyond."
For further information on how you can support 'Power to Connect' as a business or resident, please visit https://www.powertoconnect.co.uk/
About Power to Connect and DevicesDotNow campaign
Power to Connect's work tackling digital poverty during the pandemic was acknowledged at the AbilityNet Tech4Good Awards 2020 where it won the 'Community Impact' category, which recognised organisations and individuals who have used digital technology to improve the lives of others and make the world a better place. The project has also been working closely with the DevicesDotNow campaign, to help advise other small grassroots organisations across the UK on how they can help tackle digital poverty in their regions.
Chris Ashworth, Head of Public Benefit Nominet & Programme Lead for Reboot + DevicesDotNow, said:
"DevicesDotNow has been working with Power to Connect for over a year now. In that time, we have watched the project grow from a small grassroots organisation to a leader in the digital poverty space. Power to Connect has shown that local groups are best placed to respond to local need, especially when they work closely with local partners. It was the inspiration behind the Reboot Playbook, an online portal supporting the creation of device recycling schemes nationally, and without it we wouldn't have been able to offer so much advice across the country to countless others. We look forward to continuing our work together."