Council leader reflects on ten years of progress since the riots
Published: Wednesday, August 18, 2021
This month marks the tenth anniversary of the disturbances that rocked London and other parts of the country in the summer of 2011. Here the leader of the council Ravi Govindia recounts the actions taken by the council to help the community recover and build a stronger and more resilient Wandsworth.
"We were determined to learn the lessons and take steps to prevent such dreadful scenes from ever happening again. It is why in the immediate aftermath of the disturbances in Clapham Junction we commissioned the independent Kinghan report to help us better understand some of the underlying causes behind the disturbances and what we could do as a local authority to minimise the chances of it happening again.
"Faced with these challenges we took inspiration from the reaction of local people to recover and rebuild their community. Never was this more evident than in the response of our residents who, uniquely in London, took to the streets of Clapham Junction the following day to clear away the debris and start that recovery. The so called 'broom army' showed the best of our community and that the people Wandsworth were determined to come together to reject the criminality and disorder they had witnessed on their TV screens the night before.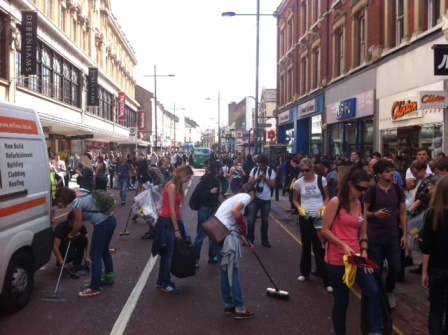 "A central element of our response was to give people, especially young people hope for the future. Improving their life chances was the key.
"To achieve this we launched our landmark aspirations programme which offered new life skills, training and employment opportunities for young people. Since its establishment it has provided 1,700 jobs and 400 apprenticeships for young residents of the borough - supported by the opening of a Work Match office in the heart of Clapham Junction.
"Another aspect was to harness the creative talents of our young residents so the aspirations programme incorporated support for arts and culture, with opportunities to become involved in art, music, dance, theatre and other cultural enrichment.
"And we embarked on a landmark programme to provide better living accommodation on some of our housing estates where inaction could prove costly. This has led to multi-billion pound regeneration schemes for Battersea's Winstanley and York Road estates, along with the Alton estate in Roehampton. But these large-scale projects aren't just about building more or better housing -ours is a holistic approach that means designing in sports and leisure facilities, artistic and cultural benefits and local employment opportunities so that we can create sustainable communities.
"All of these interventions have played key roles in supporting young people and helping to ensure that Wandsworth continues to be the inner London's safest borough with its lowest overall crime figures. But we aren't resting on our laurels. We have high hopes for the future and continue to strive to keep Wandsworth London's Brighter Borough."