Eco plaudits for borough schools
Published: Tuesday, August 24, 2021
A Putney primary school has achieved the Eco-Schools Green Flag status because of its work to create a green, eco-friendly environment.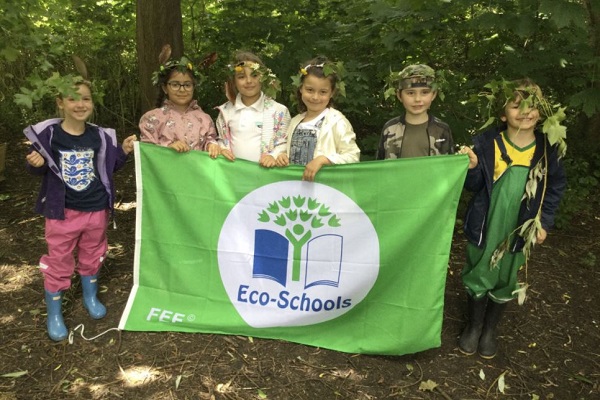 Pupils at Oasis Academy Putney formed a "Green Team" to come up with plans to make their school more environmentally friendly, including increasing biodiversity, reducing litter, and improving the school grounda. 
They built a six-story 'bug hotel' with amphibian homes, toad abodes, and a bird café and planted pollinator-friendly wildflowers as well as lettuce, vegetables, and herbs. A pond is currently being installed to further encourage biodiversity. 
Pupils also created videos encouraging the school community to participate in the annual Big Garden Bird Watch and to create bird feeders for their gardens. And they participated in the Keep Britain Tidy Great British Spring Clean by collecting litter on the school grounds and around the local area. 
Outdoor learning teacher, Katie Davies, said: "It has been so rewarding seeing our young eco-champions wanting to make changes for the better and to be rewarded with our own Green Flag was a proud moment. 
"We look forward to the start of the new academic term in September where we will choose new targets and new initiatives to continue our efforts as an Eco-School." 
Oasis is one of 88 Wandsworth schools and nurseries taking part in the Eco-School scheme, run by Keep Britain Tidy. Green Flag status – the highest level - has also been awarded to Tooting Primary School. Other schools have bronze and silver awards.  
Another Wandsworth school, Griffin in Nine Elms, is developing a space for 'Forest School Learning', to be officially launched next month.  The school held a creative storytelling session in the Forest site as part of the council's Wandsworth Arts Fringe earlier this year 
Engaging with young people and schools is a key part of the Wandsworth Environmental and Sustainability Strategy (WESS) to tackle climate change.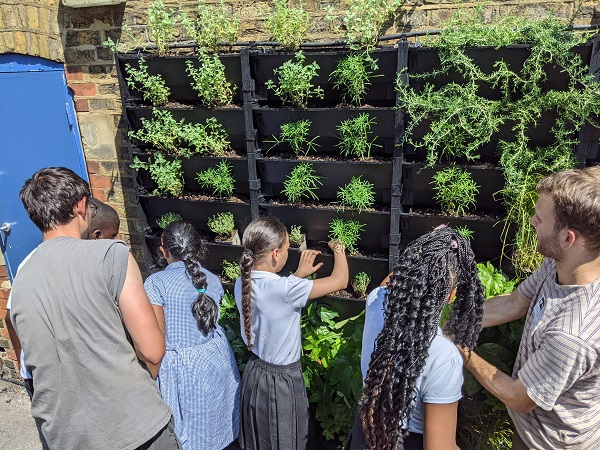 Installing the green wall at Smallwood
Recent projects have included supporting the installation of Green Walls at Smallwood and Hillbrook schools in Tooting, plus an ongoing programme to help schools encourage active travel. This includes supporting them to develop  travel plans to encourage walking and cycling, and bringing in school streets to keep streets outside schools traffic-free at drop-off and pick up time. 
The council also works on projects to encourage young people to think about climate change issues. Recent examples include Greener Picture: Photography and Climate Change, which is is an exhibition of artwork made and photographed by 670 young people from 15 primary schools in the borough, in a collaboration between Wandsworth Council and the Royal College of Art. The photographs can be seen online at agreenerpicture.com, as well as on physical display on railings around Wandsworth Town Hall. 
And this year also sees the return of the Youth4Climate poster competition, which is currently being run at local youth clubs and other venues. The results will help to promote the Wandsworth Together on Climate Change Festival in November.  
Cabinet member for climate sustainability Cllr Kim Caddy said: "Many congratulations to Oasis – their Green Team are doing some great work. We are proud of all of our young people who are playing such a big part in helping us meet our pledge to tackle climate change."