Fortnight left for residents to help shape £400k investment in Battersea neighbourhood green space
Published: Tuesday, August 3, 2021
Residents living close to a local neighbourhood park near Battersea's riverside have just under a fortnight left to help shape decisions on a proposed £400,000 facelift.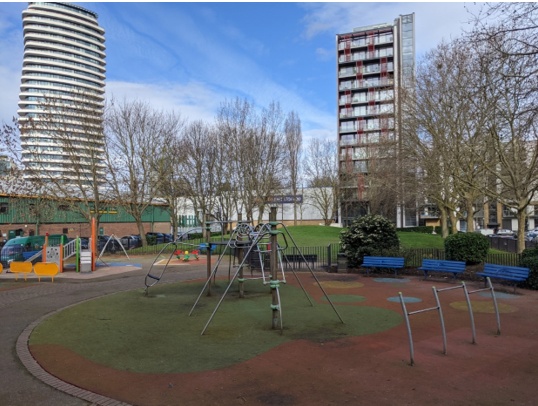 Local people are being urged to come forward and take part in a public consultation that will help determine how the money can best be spent on improving this open space.
Funding for these improvements has been raised via a levy on housing developers in the area who are required to fund local community infrastructure upgrades as a condition of their planning consents.
Harroway Gardens has a small playground which is likely to receive some of the investment – but the choices of how the money is spent will be largely determined by the views of local people expressed via the consultation.
Once the responses to this initial consultation have been evaluated, plans for the improvements will be drawn up and these will be subject to further public consultation and scrutiny.
Environment spokesman Cllr Steffi Sutters said: "I would urge everyone who lives in this part of Battersea and uses Harroway Gardens to let us know what they like about it and what they think could be improved.
"We are especially keen to hear from young families as to how the playground could be improved, but it's also important that we hear from other people in the area and what their priorities are for this open space.
"We have a significant sum of money available to upgrade this community green space and we want to make sure decisions on spending that money are in tune with local people's wishes."
To take part in the consultation, which runs until Monday, August 16, please visit https://haveyoursay.citizenspace.com/wandsworthecs/harrowaygardens-21. People who would prefer to fill in a paper copy of the survey can request one by emailing parks@enablelc.org or by telephoning 0772 511 4053.