Health watchdog launches study into long-term effects of Covid
Published: Wednesday, August 11, 2021
If you have had prolonged signs and symptoms following a viral infection over the past year – and these symptoms have lasted more than 12 weeks - then the borough's healthcare watchdog would like to hear from you.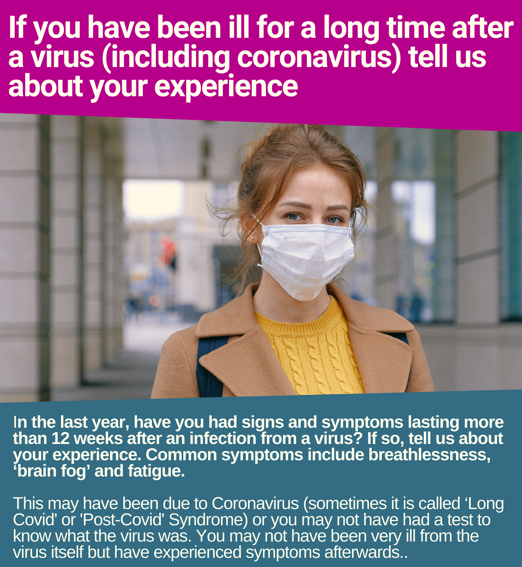 Healthwatch Wandsworth is the independent health and social care champion for people in Wandsworth. It wants to speak to people who have had long term effects from viral infections like Covid so it can help push for improved health services in the borough.
Healthwatch say there is much more to learn about how people are affected long-term after having a virus and how they are supported. Covid is raising new questions about how people can be supported and posing new challenges for services.
According to the Office of National Statistics more than one in every 100 people in the UK report experiencing long term symptoms after having had Covid and of these four in every ten experience these symptoms for over a year.
Symptoms include fatigue, headaches, tiredness, problems with memory and concentration ("brain fog"), shortness of breath and muscle pain.
One Wandsworth resident told the group: "I'm still physically suffering after a year. My mental health has been pretty ok because I'm an introvert and thrived being on my own. However, the effect of having Covid had a massive negative impact on my health."
To help the group learn more, people affected by long covid are being urged to take a 15 minute survey. Questions include:
• How well you have been supported?
• What has it been like to manage your symptoms and how could you be supported better?
• What has the impact been on your life and the people around you?
• How has it affected your emotional and mental health wellbeing?
The online survey can be accessed at www.smartsurvey.co.uk/s/HWWLCoPR.
Paper copies of the questionnaire can also be requested by calling 020 8516 7767 between 10am and 4pm Monday to Friday or by emailing information@healthwatchwandsworth.co.uk.
For more information and support services for Long COVID visit the South West London NHS website www.swlondon.nhs.uk/ourwork/long-covid-recovery/.
Healthwatch Wandsworth is the borough's independent health and social care champion. For more information about what it does and how works to improve health outcomes for local people visit www.healthwatchwandsworth.co.uk.