High-tech artificial intelligence cameras for Putney High Street
Published: Wednesday, August 18, 2021
Cameras have been installed in Putney High Street to measure types of travel, movement levels and air pollution.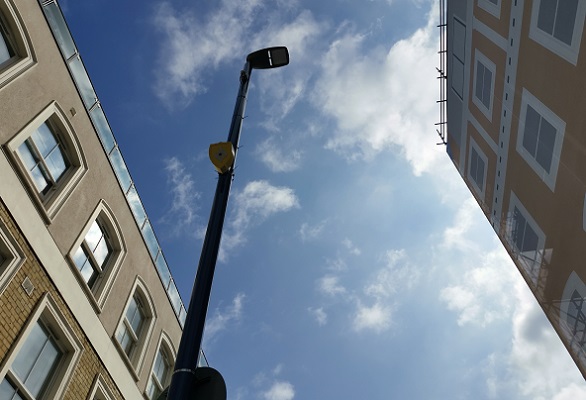 Seven Safety Shield Eco Census systems have been permanently installed to closely monitor the number of vehicles, pedestrians and cyclists using the busy road now that levels are returning to pre-COVID levels. This will enable the council to better understand how movements have changed recently and will enable it to continuously monitor ongoing changes to the way people are using the high street.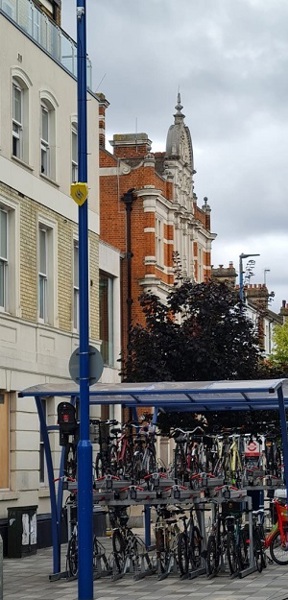 The innovative cameras also measure common pollutants including nitrogen dioxide (NO2) and particulate matter (PM) in real time, including previously unmeasured PM2.5s. 
Better monitoring of air pollution is a key part of the council's new Air Quality Action Plan. It will enable the council to judge progress against national objectives, detail long-term trends and evaluate the impact of policies to reduce air pollution. 
Particulate matter is thought to be particularly harmful to people's health. Previously the council used computer modelling to predict levels, but the new cameras will directly measure actual concentrations of PM2.5.  
Pollution comes from a variety of sources. Some of this, and in the case of particulate matter up to a third of it, comes from outside the borough. The main sources of pollution from inside the borough are road traffic and construction. 
Pollution levels in Putney High Street have been steadily falling since 2016. The number of hours NO2 levels breached National Air Quality Objectives fell from 1248 in 2016 to 11 in 2019 and four in 2020.  The borough has been awarded Cleaner Air Borough status for effectively monitoring and reducing air pollution. Read the latest progress report.
The council has been working directly with the construction industry to minimise pollution, and lobbied Transport for London to switch to less polluting hybrid buses –  buses were previously a significant contributor to air pollution in the town. Wandsworth has also been working with businesses to reduce emissions from deliveries 
Improving Putney's air quality is also part of an ongoing programme of improvements to Putney High Street to make it greener and more pleasant. Other measures to improve air quality have included installing more trees and greenery, installing a city tree to filter the air and encouraging walking and cycling by improving pavements and junctions and installing more cycle parking. 
Safety Shield Global are technological leaders in the area of object recognition, detection, artificial intelligence and collision avoidance. 
Cabinet member for transport Cllr John Locker said: "These cameras will enable us to get up-to-date data on levels of cars and other traffic, as well as pedestrians, in Putney High Street, giving us the information we need to improve traffic flow and ensure the needs of residents and visitors are met."  
Cabinet member for finance, corporate resources and climate sustainability Cllr Kim Caddy said: "Better monitoring is an important part of our recently-published Air Quality Action Plan, so I'm delighted that we have introduced this innovative technology. Pollution levels in Putney High Street and elsewhere in the borough have fallen, but we know there is always more to do, so we will use the data we collect to continue to develop and refine our approach." 
The Air Quality Action Plan is currently out to public consultation, with the views of local people helping to shape the final version. Find out more. 
Improving air quality is just part of the Wandsworth Environment and Sustainability Strategy to tackle climate change.