Opening of new entertainment mega-hub further boosts town centre's economic fortunes
Published: Friday, August 20, 2021
Wandsworth town centre continues to attract new investment boosting its economic fortunes with the opening of the new £4m entertainment mega-hub Gravity in Wandsworth's Southside shopping centre.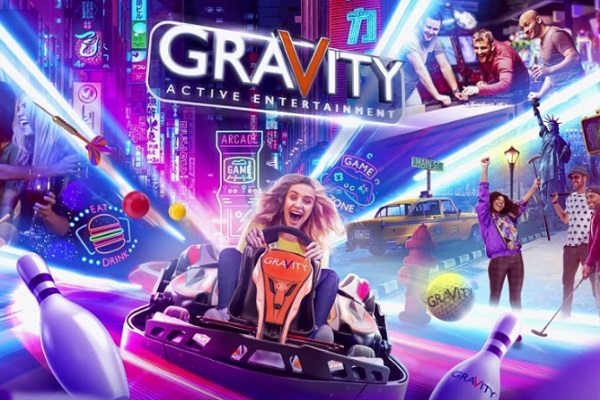 Gravity Southside has just opened its door to the public in space previously occupied by Debenhams offering visitors an all-electric indoor go-karting track, bowling alley and crazy golf course, along with high ropes climbing, darts, pool and basketball plus new restaurant outlets.
It will offer family focused entertainment during the day with live music and a high-end cocktail bar designed to attract a young adult crowd in the evenings and nights.
Harvey Jenkinson, co-Founder and CEO at Gravity, says: "Wandsworth signals a new chapter for Gravity, as our biggest opening yet. Gravity is only six years old and we are pushing the boundaries of leisure entertainment in the UK with a model that is also commercially successful.
"We are using new technology to create immersive experiences in strategically important locations in the centre of towns and cities that will attract new customers, increase footfall for landlords and breathe life back into the high street, replacing traditional shopping with fun and entertainment."
Ed Ginn, Director of Asset Management at Invesco Real Estate which has invested in the scheme, added: "We are delighted to have seen this project through from conception to launch at Southside. Gravity is able to use this new site as a model for reinvigorating retail in the UK and abroad, so of course it is a huge compliment to Southside that it's happening here first.
"The opening of Gravity Southside not only meets the growing consumer demand for interactive leisure, but also creates a strong draw for people who are looking for reasons to return to city and town centres, bringing vibrancy and excitement to Wandsworth."

Gravity's arrival is just the latest vote of confidence in the future prosperity of Wandsworth town centre.
In May Young's Brewery confirmed that it is planning to open its new headquarters in the heart of the town centre - helping to safeguard the future of a landmark high street pub.
Young's head office will be included as part of a redevelopment of the historic Grade II Listed Spread Eagle public house, which was awarded planning consent last year for the creation of a 21-bedroom boutique hotel on the pub's upper floors.
Other landmark regeneration schemes that are contributing to the town centre's continued vibrancy include the Wandsworth Business Village, the Ram Brewery site, Lyon House and The Filaments in Buckhold Road.
Work has also just finished on the redevelopment of two former council office blocks fronting Garrett Lane and Wandsworth High Street along with another formerly owned by South Thames College, which is providing 200 new homes, a brand new and improved public library, better teaching facilities at the college, new shops and a revamped town centre green space.
Fifty of these new homes are affordable and will be offered to Wandsworth residents on lower incomes to rent or buy at a discounted price.
Another key element of the scheme is making better public use of the Old Burial Ground in Garratt Lane, which is an important but previously underused town centre green space. New pedestrian links have been opened up providing a direct route into the high street, while a state-of-the-art library also forms part of this route, opening up onto a newly created public square, directly adjacent to the burial ground, offering seating and play space for younger children.
And the town centre's long running tradition of beer brewing has been maintained with the relocation of Sambrooks Brewery to its new home on the former Ram Brewery site in Wandsworth High Street – ensuring its 500 year history of beer making continues well into the 21st Century.
Another major boost in the town centre's fortunes is also in the pipeline with the long-awaited redesign of the Wandsworth one-way system.
Transport for London is drawing up these proposals to remove through traffic from the high street and create better space for pedestrians and cyclists. The council has pledged more than £27m towards the long overdue delivery of this major traffic reduction scheme
Council Leader Ravi Govindia said: "The council has worked hard to ensure that all the right conditions are in place to encourage and generate new investment in the town centre.
"Taking all these investment schemes together, they represent one of the biggest urban renewal projects in London with well over £1bn flowing into Wandsworth town centre. Hundreds of new jobs and homes are being created here alongside major improvements to the local environment.
"Boosting the town centre's economic fortunes and making it a landmark destination for leisure and hospitality choices means more jobs for local people and better prospects for local businesses.
"As the high street faces up to the challenges and opportunities of a post pandemic world, it's vitally important that councils offer the right level of support to help high streets recover and grow."