City Tree makes a meal of Putney's air pollution
Published: Friday, December 4, 2020
Putney has a new City Tree to help improve air quality.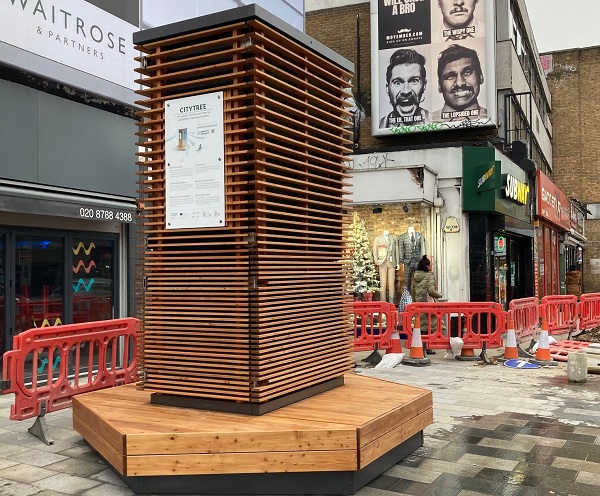 The council has installed the tree in Putney High Street near its junction with Putney Bridge Road as part of a major ongoing improvement project for the town. 
The City Tree filters particulate matter and fine dust out of the surrounding air, whilst simultaneously producing oxygen. It filters the breathing air of up to 7,000 people an hour.
Inside there are eight large panels made of living moss, supported by intelligent ventilation and irrigation systems. Moss has lots of fine hairs, resulting in a large surface area which attracts particulate matter, removing ultra-fine particles from the air. The moss then metabolizes the particles - meaning it actually "eats" them.
It is the result of five years of research and development by Green City Solutions based in Germany.
Other work carried out as part of the Putney improvement project includes the installation of parklets, widening and repaving pavements, upgrading streetlights, lighting up St Mary's Church and Putney Bridge, removing street clutter such as unnecessary railings and installing more parking for bikes.
The council also works with the Positively Putney business improvement district to support local shops and businesses. New branches of Pets at Home and Sports Direct open their doors to shoppers this week, with a new Lidl opening on the High Street in the spring.  
Cabinet member for strategic planning and transport Cllr John Locker said: "We have a commitment to improving Putney for pedestrians and cyclists, with local people, visitors and shoppers now enjoying improvements including much wider pavements and new bike racks, including a 'double-decker' rack near the library."
Cabinet member for finance, corporate resources and climate sustainability, Cllr Rory O'Broin, said: "I'm delighted that this cutting-edge City Tree technology has come to Putney. We will monitor its effectiveness in absorbing air pollution on the High Street as part of our ongoing commitment to tackling climate change."