100,000 real Christmas trees turned into compost
Published: Wednesday, January 6, 2021
The council is once again offering a free real Christmas tree recycling service between Monday 4 January to 15 January 2021.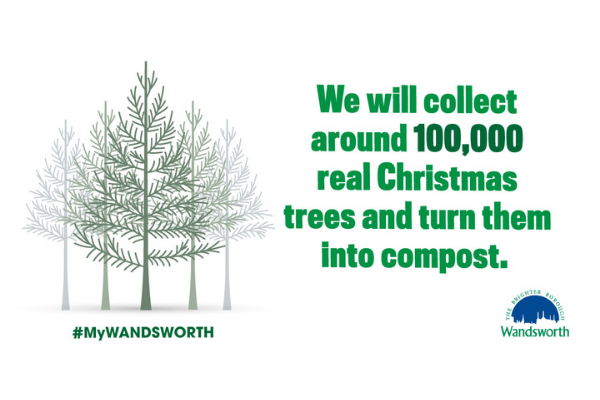 Residents are asked to put their real Christmas tree out with their normal collection on bin day, but please do so sensibly, so they don't get in the way and people can walk down the street.   
Putting your Christmas tree out for collection
Residents with front gardens should place trees for collection alongside their rubbish and recycling sacks on their usual bin day - not on the street.
Those without front gardens can place them on the pavement directly in front of their home but only if it does not cause an obstruction.
These trees should not be left out for collection any earlier than 6.30pm on the day before the collection is due.
Residents who live in blocks of flats should leave their trees near to their refuse bin store, making sure they do not block access.
Different collection lorry: please note it may not be the same lorry that collects your normal waste and recycling collection so please don't worry if your bins are emptied and your recycling sacks taken away before your tree is collected.
Cllr Steffi Sutters Cabinet Member for Community Services and Open Spaces said:

"In the first two weeks of January, our waste crews will be hard at work collecting all your rubbish and recycling, as well as around 100,000 Christmas trees, which are taken away and turned into compost.

"Just put you tree out on your usual collection day, taking care not to cause an obstruction, and we'll take it away.
"I'd also like to thank all of our residents for doing their bit and continuing to recycle, as well as all the wonderful messages of support they have been giving our waste crews since lockdown in March 2020."
Residents are being strongly urged not to abuse this free service by placing trees on the street (except as above) or where they will cause an obstruction on the street. This is totally unnecessary as they will be collected free of charge.
If trees are dumped on the street blocking pavements or parking spaces, the pick-up crews have to be diverted away from their scheduled collections to deal with this problem, causing delays and inconvenience.
People should make sure that all decorations, pots and stands have been removed and are being reminded that this free service applies only to real trees not artificial ones.