NHS 111 First
Published: Monday, January 1, 0001
The NHS in London may be busy, but urgent care is available if you need it. The best way to receive the most appropriate service, in a safe and timely way, is to contact 111.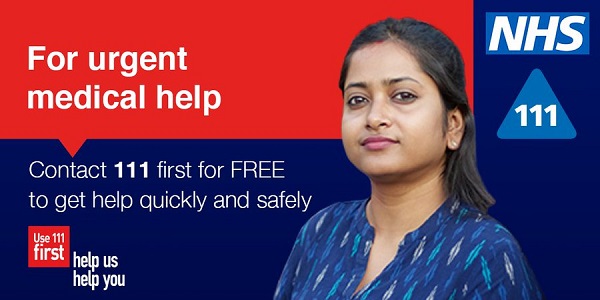 Your NHS 111 advisor or clinician will be able to assess you on the phone and, if needed can direct you to or book an appointment with a GP, pharmacist, Urgent Treatment Centre, or can book a direct time slot at A&E. 
If you need urgent care, then they may also be able to give you the advice you need without using another service.
Cllr Clare Salier, Wandsworth Council's Cabinet Member for Adult Social Care and Public Health, says: "Please 'Help Us, Help You' and ease the pressure on the NHS by using the NHS 111 service as a new way to access help,  if you have an urgent but not life-threatening medical need, make sure you contact NHS 111 first rather than going straight to A&E.
"Contacting 111 first will also help the NHS to keep you safe by maintaining social distancing and ensure that you receive the right care in the right place, in a more timely and safe way. NHS services are under increased pressure and we need to do all that we can to help, so please think NHS 111 first."
NHS 111 is also able to direct to or book an appointment at Urgent Treatment Centres, GP surgeries, pharmacies, emergency dental services and walk-in clinics. Just think 111 first. When you think you need A&E, contact NHS 111 by phone or online.
You can contact NHS 111 either online or by phone 24 hours a day, 7 days a week. The service is free to use, including from a mobile phone.