Not sure about the Covid-19 vaccine? Come and have a chat to get the facts
Published: Friday, January 7, 2022
Unsure about getting vaccinated? Worried about side effects, needles or just uncertain about which vaccine you receive? You can get the answers to all your questions, from the NHS, at local vaccination sites across Wandsworth, with no pressure to get the jab.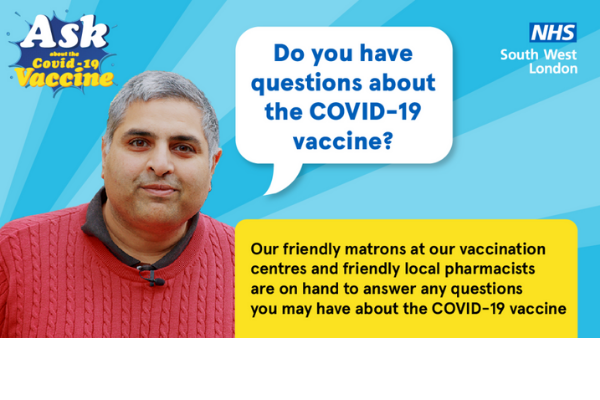 Nurses, pharmacists and other clinical staff are on hand to talk through any issues as every effort is made to ensure everyone has the information they need to make a decision about the vaccine.
This action comes after the local NHS ran focus groups on the vaccines for local people, who told them that they would feel more confident about having the vaccine if they had more information about its effectiveness.
Pharmacist Mike Patel, who runs Pearl Chemist Covid-19 Vaccination Centre in Tooting, said: "If you're thinking about having your vaccine, please don't hesitate to pop into your local vaccination centre for a chat.
"If you are unsure about having your vaccine, just ask us. We are happy to answer any questions you may have and there's no pressure on you."
As the Omicron variant of the virus continues to be prevalent, getting a booster dose is vital as data shows that two doses of the vaccine are not enough to offer protection.  A third, booster dose prevents around 75% of people from getting Covid symptoms, according to the NHS. 
However, it's never too late to get your first and second jab – every dose increases your protection against the virus.
For information about walk-in and pop-up clinics in Wandsworth, and across South West London visit the NHS website locally.
People can also call 119 or visit the national booking service to make an appointment at a local vaccination centre or pharmacy.