Explore new public spaces in Nine Elms at LFA2021
Published: Tuesday, June 8, 2021
Discover more about Nine Elms this month as London Festival of Architecture (LFA2021) explores the development of the area with fascinating insight, new photography and online webinars.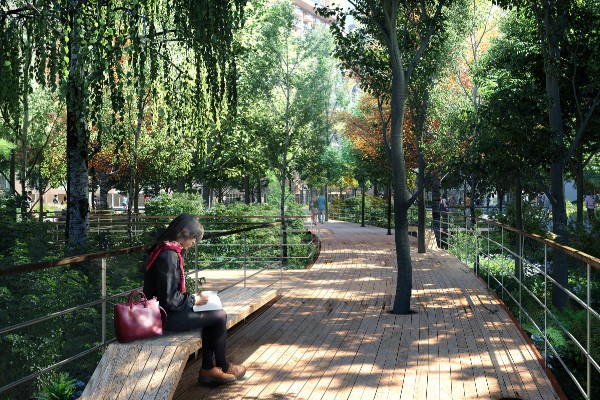 Wandsworth Council has been working with development partners in Nine Elms and Battersea to create new routes and public places for everyone's benefit and wellbeing as the area transforms.
These unique and innovative collaborations are highlighted in the exciting programme of free events which includes online talks, picture galleries of key gateways and the linear park, a panoramic virtual tour and craft workshop video.
Welcoming gateways are being designed for pedestrians using the Arch 42 route under the railway tracks in SW8, and new green and landscaped spaces are opening up to create Nine Elms Park – a linear route stretching from Battersea Power Station in the west to Vauxhall in the east.
New routes opening up
Cllr Ravi Govindia, Leader of Wandsworth Council said: "2021 is a crucial year for this part of Wandsworth as the Northern Line Extension opens soon, creating new connections with central London. As part of the 20-year development plan for this part of London, the council has worked hard to ensure that new routes and public spaces are opened up for people to use for travel and leisure.
"This includes the Thames path which we are opening in phases, together with an incredible 12-acre public park and new through-routes like Arch 42 which will connect communities on both sides of the railway line.
"Taking part in London Festival of Architecture this year gives us a timely opportunity to showcase some of our emerging public realm as well as look at how we've worked with local partners to maintain and safeguard historic assets such as Victorian railway arches, the riverside path and Battersea Power Station."
Webinar: Nine Elms Park – creating a new public space for London
Wednesday 16 June, 10am to 11am
Nine Elms Park is a new green linear park for London. Wandsworth Council has worked with local developers, landowners, designers and UCL to develop a cohesive design and London's first innovative POPS (Privately Owned Public Space) Charter to help secure this outdoor space for leisure and wellbeing. You can find out more about the new Nine Elms Park with an exhibition of images and an online panel discussion with a range of guests who will give their insight on creating the park.
About Nine Elms
As Nine Elms grows as a vibrant living and working neighbourhood in the borough of Wandsworth, development is supported by a £1bn transport and infrastructure investment package which includes improvements to public transport, walking and cycling routes as well as two new Zone 1 stations opening this Autumn on the Northern Line Extension. 
Nine Elms and Battersea have always been a critical part of London's landscape. The area's past is one of commerce and industry, its future is of enterprise, art, culture and living. 
This part of Wandsworth sits within the Vauxhall Nine Elms Battersea (VNEB) opportunity area running along the south bank of the Thames between Chelsea and Lambeth bridges. 
The opportunity area is being regenerated by Wandsworth and Lambeth councils working together with development partners. The development programme is extensive, including an extension of the Northern Line with two new stations opening in 2021, new parks, leisure, health and school facilities, and new public access to the Thames River Path.  
Battersea Power Station and the new US Embassy are located here, and development partners are building 20,000 new homes, a brand New Covent Garden Market, business premises, shops and spaces for cultural exchange. The development is creating 25,000 new jobs. 
The vision is a long-term one; to transform one of the capital's last remaining industrial districts into an amazing place for Londoners old and new to call home. Today's reality is an exciting one; new spaces and places coming to life every day. 
Find out more on Twitter @NineElmsTeam, Instagram @NineElmsLondon, Facebook @NineElmsLondon or find out what there is to see and do at www.nineelmslondon.com
About LFA
The London Festival of Architecture (LFA) celebrates London as the global hub for architecture. The festival returns to the capital from 1-30 June 2021 with a lively and diverse programme of public events across London exploring the theme of 'care'. For 2021 the festival has many covid-secure events across the city, along with other digital events.
The London Festival of Architecture began in 2004, and has since grown to become the world's largest annual architecture festival. The festival attracts a vast public audience – well over 800,000 people in 2019 – and a global media audience of millions. The vast majority of events are free, and are staged by a core festival programming team working alongside architecture and design practices and practitioners, leading cultural and academic institutions, artists and many others.