London Children's Ballet launch Big Yellow Dance Studio in Battersea
Published: Friday, June 4, 2021
London Children's Ballet will be the first in a string of cultural organisations to open their doors in Battersea and Nine Elms.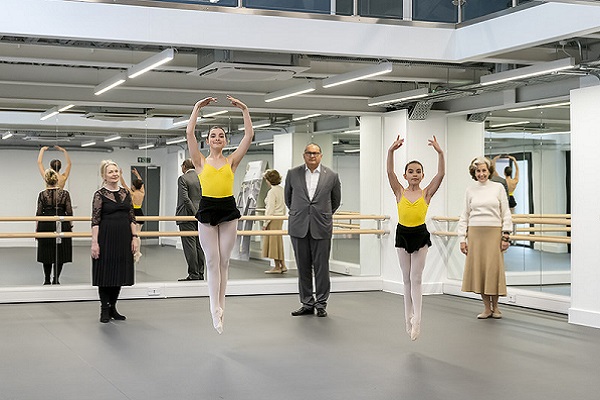 It joins Matt's Gallery, World Heart Beat Academy and Chocolate Films who are taking up new spaces in the area as part of Wandsworth Council's 'Cultural Anchor' strategy, working with developers and partners to attract cultural organisations, weave the arts into the fabric of the borough and make them assessable to young people.
The area is already home to the Royal Academy of Dance, Tavaziva Dance and BBO Dance (formerly the British Ballet Organisation), and a strong set of creative youth programmes focussed around Providence House and Caius House. 
London Children's Ballet will be formerly opening their door to the public as part of Wandsworth Arts Fringe (25 June – 11 July 2021). 
The space has been provided by The Big Yellow Self Storage Company, as part of its commitment to creating a vibrant local community around its new development on Lombard Road. Big Yellow will provide this cultural space for free for 125 years, with an initial lease to London Children's Ballet for 20 years.  
It includes a state-of-the-art dance studio, complete with industry-leading Harlequin sprung dance floors, ballet barres and mirrors, as well as open plan offices, a meeting room, storage to house its collection of costumes and props, and bathroom and changing facilities. 
Wandsworth Council is working with London Children's Ballet to ensure that residents benefit at low cost from opportunities to engage in arts and cultural activities. This is part of the borough's new ten-year strategy for Arts and Culture, focussing on access for all, learning and education, health and wellbeing, communities and partnership and place-shaping. 
London Children's Ballet support young people, including many who would not otherwise have access to ballet (including children in care, young carers, young people in hospitals, hospices or PRUs, or young people with special needs), to participate in their programmes and enjoy their performances.
Wandsworth Council's Cabinet Member for Community Services and Open Spaces, Councillor Steffi Sutters said: "I am delighted to welcome London Children's Ballet to Wandsworth as our first cultural anchor tenant. We look forward to working closely with London Children's Ballet to help knit them into our cultural landscape and ensure that young people take up the fantastic opportunities provided by LCB.
"Working in partnership with developers such as Big Yellow and arts organisations like London Children's Ballet is a key part of a long term vision to transforming this part of the borough into a vibrant area, attracting new residents to the borough as well as improving the housing of residents on the local estates. Culture and creativity play a key in this transformation, from providing opportunities for local people to develop and hone new skills, discover talents, provide employment in the cultural and creative sector and improve their health, wellbeing and happiness."
Ruth Brill, London Children's Ballet Artistic Director said: "Thanks to the support of Big Yellow and Wandsworth Borough Council, the new LCB Studios offers us the opportunity to work within Wandsworth to expand our outreach and charitable work in the local community. It is great to have secured our presence here and be part of the area as it evolves. 
"I am so excited for this new chapter for London Children's Ballet and am so proud of how we have managed to secure this wonderful opportunity during the enforced window of quiet in the Arts, due to the pandemic. I look forward with renewed energy, excitement and faith in our future. We will build on our 25 year history, strive to develop new avenues and continue to provide young people, from all backgrounds, the chance to thrive through dance." 
Lucille Briance, Founder of London Children's Ballet said: "This is an extraordinary benchmark for London Children's Ballet. Over the last 24 years, our charity has had a vision to inspire children to excellence, to be the best they can be and build self-esteem and confidence. We ensured our auditions are always free and have responded to what we've heard from parents and children. With the support of Wandsworth Council, it is exciting that we will now be able to reach more children from every background. 
"When Jim (James Gibson, Big Yellow's CEO) offered to help us store our costumes, it began an important relationship with Big Yellow. The whole team at Big Yellow have turned themselves inside out over the years to help us - with storage, with performance sponsorship, and now providing us with studio space where we can show the work we do. These studios make it possible for us to bring hundreds more young people to have confidence in themselves, to try new things and give them an opportunity to shine. LCB owes The Big Yellow and Wandsworth Council a big thank you!" 
James Gibson, Chief Executive Officer at The Big Yellow Self Storage said: "Here at Big Yellow we are passionate about giving back to the local communities which surround our stores up and down the country. As part of this work, we are incredibly excited to welcome London Children's Ballet to our new Battersea store and hope the creation of the dance studio, as well as the storage space and meeting room, will offer invaluable support whilst encouraging further rising talent to get involved with such an outstanding organisation."
The council's Cultural Anchor programme, which works strategically with developers and partners to bring cultural organisations into the Borough. It is a key piece of the Wandsworth  Arts and Culture Strategy which is currently open for public consultation. Find out more.