Love your parks this summer
Published: Friday, June 4, 2021
Love Parks is back! Wandsworth Council in partnership with Enable Leisure and Culture is launching the annual summer campaign this weekend, and will be kicking off with a litter pick on Sunday (June 6).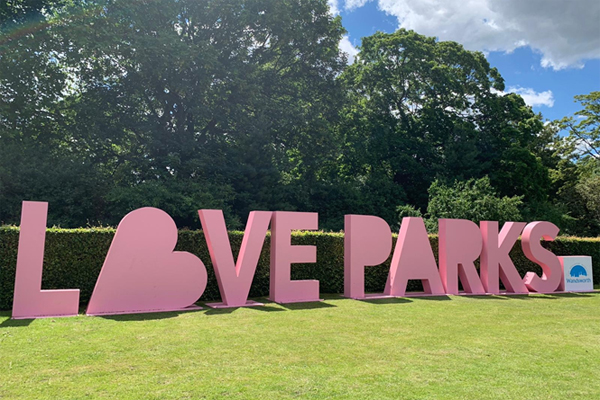 Love Parks is about encouraging everyone who visits the borough's many parks and open spaces to celebrate what's great about them, with a series of fun summer events running until the end of August.
And it reminds visitors to help us care for their parks by showing respect to the huge variety of wildlife and plants, a delicate biodiversity that can be damaged by people leaving litter.
The Love Parks giant pink letters will be back, and people are encouraged to share their love on social media. Use the hashtag #LoveParksWandsworth.
Wandsworth has one of the highest number of council-owned parks and open spaces in inner London. Many of its 32 public parks include children's playgrounds. Parks, open spaces, and private gardens cover 40 per cent of the borough.
We caught up with local resident and TV presenter Anthea Turner who explains why she loves her local green space – Battersea Park. 

Through its contractor Enable Leisure and Culture, the council spends millions of pounds each year caring for open spaces, looking after Wandsworth's 62,000 trees and planting hundreds more.
Recently the council launched a new Biodiversity Strategy – part of its commitment to tackle climate change. The plan sets out how biodiversity in the borough will be protected and enhanced and how nature will be made accessible to all.
Love Parks events this summer include biodiversity walks, outdoor pottery, Zumba and tai chi classes, a family art event and children's dance show, with more being planned.
Sunday's litter pick will start at 1pm on Wandsworth Common and is being hosted by the Friends of Wandsworth Common while a Plogolution event starts there at 2pm. Both are part of the Great British Spring Clean. If you wish to participate in this event, please email info@wandsworthcommon.org. If you'd like to organise your own community clean up, find out how.
The litter pick will highlight the importance of recycling your rubbish. Temporary recycling bins will be installed, with permanent ones on their way shortly.
Councillor Steffi Sutters, Wandsworth Council's cabinet member for the environment, said: "We are so lucky in Wandsworth to have many beautiful parks, commons and open spaces, and our annual Love Parks campaign is all about encouraging people to enjoy their local park, and to explore new ones.
"During the pandemic, getting out into nature has been more important than ever. We have worked hard to maintain and improve our parks to keep them looking their best, but we have seen increased amounts of litter during lockdowns.
"Please have fun in our parks this summer, but do your bit by putting your rubbish in a bin, or taking it home if the bin is full."
Find out more at www.wandsworth.gov.uk/loveparks