Putney towpath group clean up along the River Thames
Published: Friday, June 4, 2021
Twelve volunteers took part in a litter pick organised alongside the River Thames organised by the Putney Towpath group, as part of the Great British Spring Clean.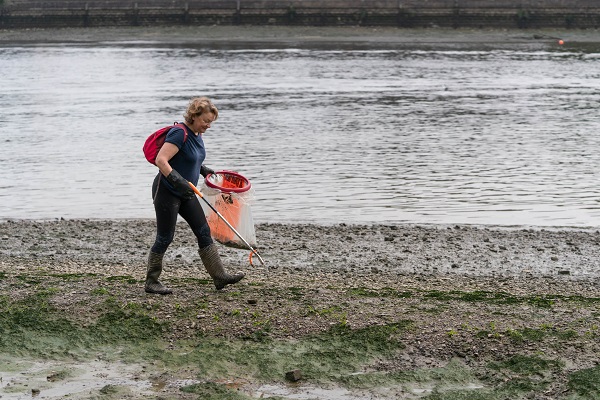 The group is made up of volunteers who spend countless hours of their time to help preserve and enhance the environment, along the Putney towpath and foreshore.
In total, on this litter pick alone, they picked up 12 bags of litter containing; 16 single use glasses, 15 single use bottles, 5 disposable masks and large amounts of micro-plastics. Rubbish collected from all litter picks in Wandsworth is then sorted, so that everything that can be recycled is recycled.   
Wandsworth Council works with many other local organisations to protect London's rivers and organise litter picks alongside the River Thames; preserving the river's fragile eco system and guarding against the impact that litter and pollution has on our environment.
Paul Benton, co–founder of Putney Tidy Towpath said: "With things returning to normal, more people are out and about which is great, but unfortunately we've seen more litter, everything from coffee cups to single use plastic bottles and lids. We also remove the usual items deposited by high tides which include, not just single use plastics, but also building products, cotton buds and even syringes.
"We're fortunate that we have a dedicated group of volunteers who join us on our litter picks, every couple of weeks, to do their bit for area and keep it looking at its best.
Councillor Steffi Sutters, Environment spokesperson said: "During the past 12 months our outdoor spaces have mattered to us more than ever before, so it's great to see local people come together and help maintain the quality of their local environment.
"We're big fans of the Great British Spring Clean, so we're encouraging everyone locally to get involved, and we'll collect the rubbish at the end of any clean-ups they organise.
"Here on the River Thames community groups do very important work to help protect marine wildlife from the huge damage that can be done by litter.
"In fact, more than 80 per cent of litter in the Thames is made up of single-use items such as metal drink cans, food packaging and plastic drinks bottles and needs to be addressed urgently to help save our planet."
About the Putney towpath group
The Putney towpath community action group is a group of local people who volunteer to highlight and seek a solution to the problem of non-organic litter/non-bio-degradable items on the Putney Embankment towpath and foreshore before the items are washed out to sea by the next high tide, affecting marine life in our Seas and Oceans. They share their litter collection data with Thames21 the leading waterways charity dedicated to putting healthy rivers back at the heart of community life.

Find out more about their work on their website.

Get involved in the Great British Spring Clean
Anyone can get involved in the Great British Spring Clean by,  pledging to pick up litter and recording how many hours and minutes they have spent doing their bit to help the environment – whether it a few minutes a day, when our and about or by organising a community clean up.
You can get involved by,
Pledging as an individual: you can pledge up to 24 hours of litter-picking at a time. If you do more than this, please make additional pledges.
Pledge as a group: you can organise a litter pick in a group of up to six volunteers, or two households. Schools can also get involved and organise their own litter picks.
Keep Britain Tidy will convert the minutes pledged, into miles, to highlight how much we have all achieved, with the hope that, come summer, we can all enjoy a cleaner, litter-free environment. 
Advice and guidance can be found on the Great British Spring Clean website,
Advice and guidance to get you to get started.
Covid-19 guidance on how to stay safe when you organise a litter pick.
You can also read a little more about why litter-picking matters, and how you can make a difference here.


Get in touch about your clean-up - and we'll take away the rubbish
Let us know when, and where, your clean-up is, in advance of the event, and we can arrange for rubbish to be collected. Contact Dominic.Ridley-Moy@richmondandwandsworth.gov.uk to discuss this further. 


Cracking down on fly-tipping
Official Government figures show that fly-tippers who dump their waste in Wandsworth are more likely to be caught and punished than in many other London boroughs.
Data published by Defra shows that Wandsworth issued 955 fines (FPNs) for fly tipping offences last year. 
Over the same period the borough suffered 4,745 fly tips meaning culprits face just under a one in five chance of being caught and fined. The data also shows that Wandsworth has the second lowest number of recorded fly tips in inner London.