Schoolchildren create A Greener Picture
Published: Tuesday, June 29, 2021
Banners have been installed around Wandsworth Town Hall showing work by pupils from 15 Wandsworth primary schools representing the climate emergency through sculpture and photography.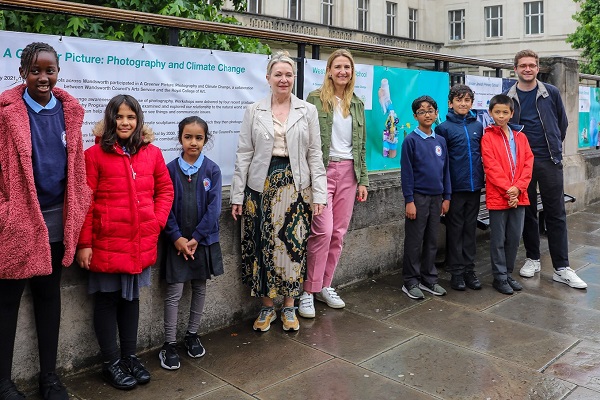 The work was officially unveiled this week as part of the launch of the borough's flagship arts festival, the Wandsworth Arts Fringe.   
Around 670 borough schoolchildren worked with Wandsworth Council's Arts Team and with artists from the Royal College of Art. The project was funded by the council as part of the Wandsworth Environment and Sustainability Strategy.  
They explored the theme of climate change in sculpture and cyanotype workshops and photographed the result. A selection of these images have been made into banners and hung on railings around the town hall so that as many people as possible can see them.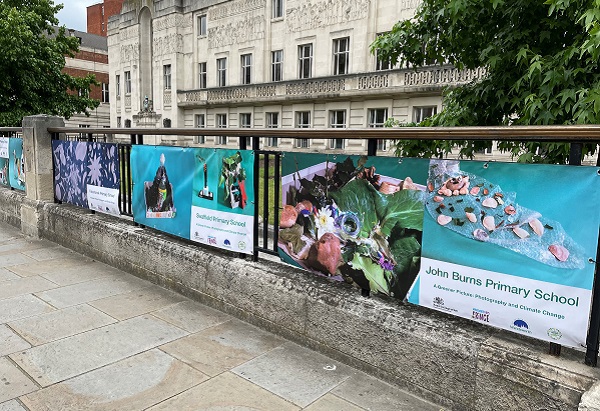 Each participating school and all Wandsworth libraries will receive a printed book of the images and all images are also online in a digital exhibition as part of Wandsworth Arts Fringe 2021.   
"As well as being an exciting way to show the work of young artists during WAF, A Greener Picture is part of ongoing work with schools to make sure the voices of young people are included in our conversations around climate change," said environment spokesman Cllr Kim Caddy.   
"The art created by these young people is so inspiring and they should be very proud of what they've achieved," said arts and culture spokesman Cllr Steffi Sutters. "The Wandsworth Arts Fringe is all about getting as many local people involved as possible and this is a brilliant way to show off the creativity of our young people and encourage them to think about climate change." 
The award-winning Wandsworth Council Arts Team organises the annual Wandsworth Arts Fringe as well as a range of other projects to support local artists and makers. It also works with all council departments, including housing, planning, economic development, schools and public health to embed arts and culture into the heart of the council's work.  
Comment on the draft ten year Arts and Culture Strategy 
The Wandsworth Environment and Sustainability Strategy is a road map of how the council will tackle climate change and become carbon-neutral by 2030. Read the strategy and find out about the council's Together on Climate Change campaign to work in partnership with local people to reduce carbon emissions.