One month countdown begins on new King George's Park play equipment consultation
Published: Tuesday, March 16, 2021
There's now exactly one month left for local families and children to say which one of three designs they prefer for a revamp of the junior and toddler playground in King George's Park.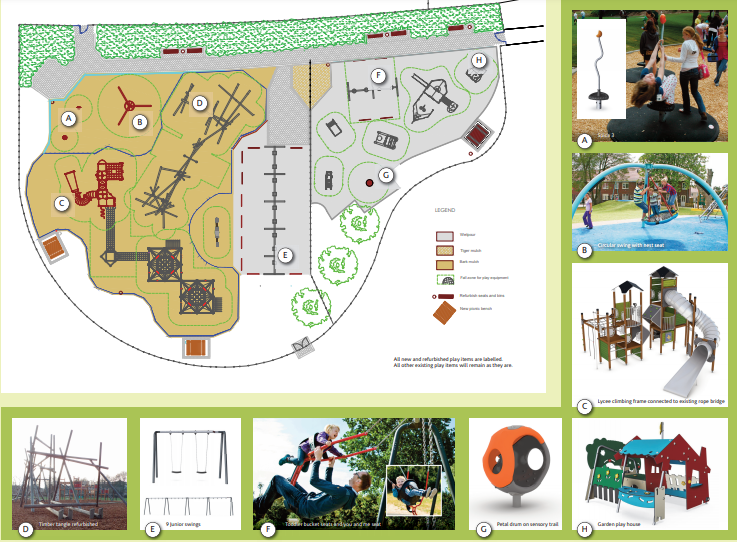 The council has unveiled three new designs for the park's play area which will see the existing facilities upgraded with exciting and challenging new play equipment.
The designs are the subject of a public consultation that has a month left to run before concluding on April 16.
They have been drawn up based on the results of a previous survey which asked children and families what new types of new play equipment they'd like to see installed and also following assessments of which of the existing equipment is most in need of replacement.
The playground is designed to be used by children of all ages up to the age of 16.
The three designs are:
Funding for these improvements comes from money the council has levied on property developers to help pay for community and local neighbourhood infrastructure improvements.
Over the past three years nearly £8m has been spent on these local initiatives including schemes to support safer communities, employment opportunities for young people, better pavements and improved parks and playgrounds.
Parks and open spaces spokesman Cllr Steffi Sutters said: "There are three really exciting designs for children and their families to choose from and I would urge everyone who uses this playground in King George's park to get involved in the consultation and tell us which design they prefer."
Residents who would prefer to complete a paper copy of the consultation questionnaire can email parks@enablelc.org or call 0772 511 4053.