Online festival for Roehampton
Published: Wednesday, March 17, 2021
Spring vibes will reverberate across the Alton Estate in Roehampton on Saturday, March 20th when a special festival takes place.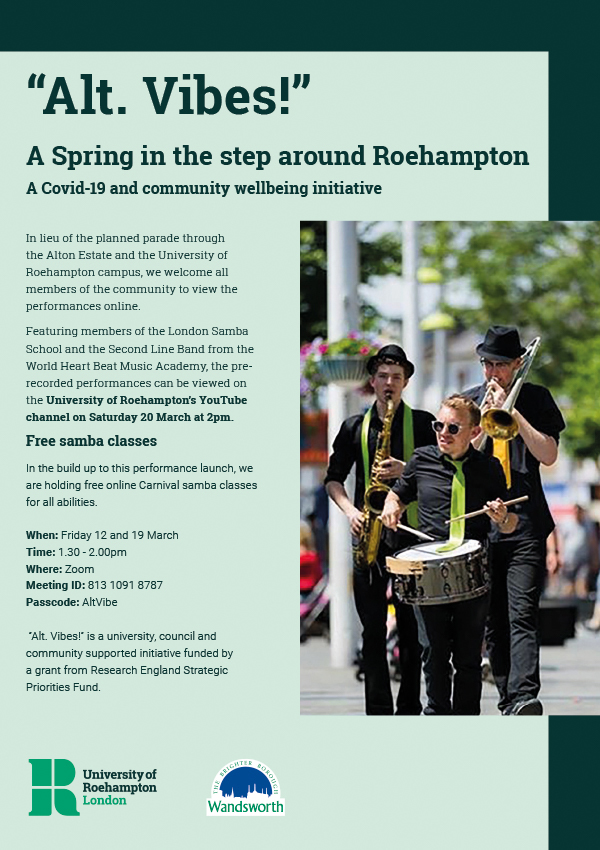 Due to lockdown rules the event called Alt. Vibes! will take place online from 2pm and can be viewed on University of Roehampton - YouTube
There will be performances from members of the London Samba School and the Second Line Band from Wandsworth-based World Heartbeat Music Academy. The broadcast will include a short Samba lesson. You can also improve your Samba skills at a free zoom class between 1.30-2pm on Friday, March 19th. The meeting ID is 813 1091 8787 and the password AltVibe.
The event is being organised by Wandsworth Council and the University of Roehampton. Funding for the project has come from a grant of more than £4,000 following a successful joint bid by the university and council to the Research England Strategic Priorities Fund.
The aim of the event is to bring the community together especially after the impact of the Covid-19 and the lack of socialising through 2020.
Cabinet Member for Housing Cllr Kim Caddy said: "Of course it is disappointing that the event has to take place online but it will bring some much needed fun to residents and hopefully give everyone who watches a lift."