Tips on getting active, eating healthily on a budget and support to stop smoking
Published: Friday, March 17, 2023
Top tips on how to stay active every day of the week.

 

Affordable budget-friendly health food swaps on a budget.

 

Support to help quit smoking, meaning you're four times more likely to quit for good.

 

FREE blood pressure checks.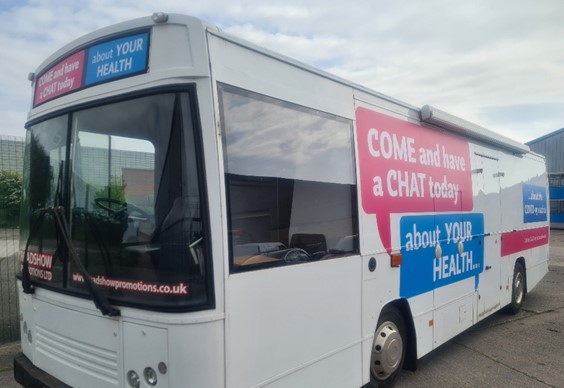 The council's health bus is out and about helping residents to be active, stay well and have fun at the same time, encouraging them to make small changes that can have a big impact on their health. 
 
Join us on the following dates, 
Friday 24 March, 11am to 4pm, Asda Clapham Junction, 204 Lavender Hill, SW11 1JG 

 

Thursday 30th March, 11am to 4pm, Latchmere Leisure Centre, Burns Rd, SW11 5AD 

 

Friday 31st March, 11am to 4pm, St Joseph's Church, 218 Roehampton Ln, London SW15 4LE. 

 
 Public health champions will be on hand to,
Provide top tips on how to get fruit, vegetables and protein into your diet in an affordable way.

 

Share how you can stay active for 22 minutes a day, every day of the week.

 

Give out advice on the council's stop smoking service, which helps you quit for good and means you are four times more likely to stop. 

 
A pharmacist will also be on hand to check your blood pressure and offer advice on a range of health conditions, as well as preventing and reducing your risk for a number of diseases, including diabetes, cancer and heart disease.   
There is also lots of support available online, from the council, to help you achieve your goals, if you aren't able to visit the health bus, visit our healthy lifestyles webpages which contain advice on the following topics,  
Tips to get active

 

Reduce the risk of diabetes

 

Healthy eating tips

 

Weight loss support

 

Help to stop smoking

 
You can also find some top tips to eat healthily during Ramadan from the Muslim Aid Foundation. 
Councillor Graeme Henderson, Cabinet Member for Adult Care and Health said,  
"Our health bus has been out and about nearly 60 times, and we are continuing to do all we can to get out to areas where residents need out support the most. 
 
"We want to make sure that each and every one of us does what we can to remain healthy and well, so we're continuing to make this as easy as possible for local residents."