Brighter Borough tops London's league table for EV charging points
Published: Friday, November 6, 2020
A map that pinpoints all the UK's electric vehicle charging points is now showing that Wandsworth tops the London league table for the number of publicly available sockets.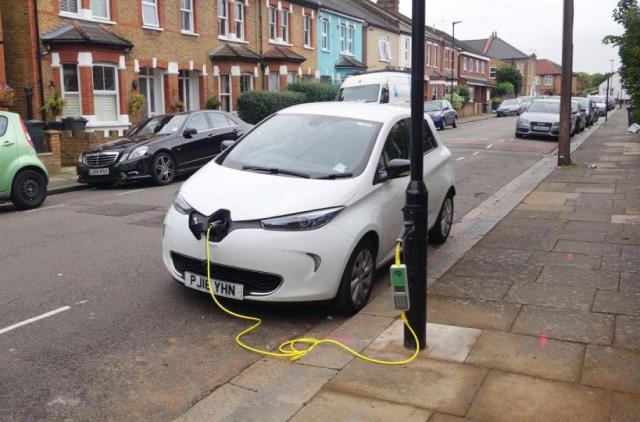 Data compiled by Zap-Map which reveals where charging points are across the entire British Isles, shows there are more in Wandsworth than in any other London borough.
The council is fully committed to tackling air pollution and improving the borough's air quality. Included as part of these efforts are steps to encourage residents to switch from diesel and petrol-powered vehicles to cleaner and greener electric versions.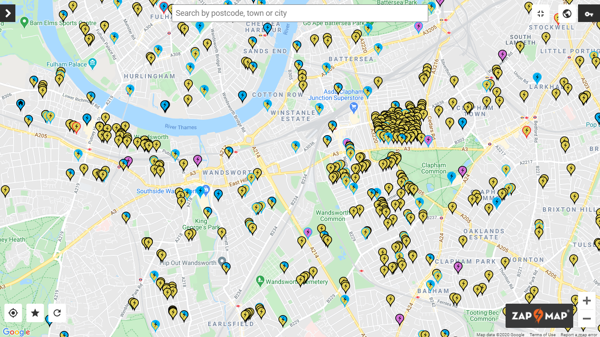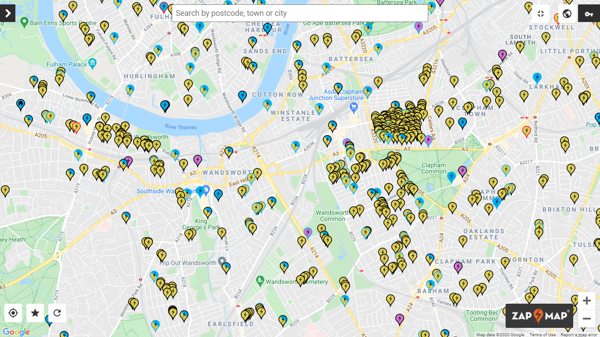 To encourage people to make the switch, the council has embarked on an ambitious programme of fitting on-street charging sockets in partnership with ubitricity and Siemens as well as with Source London. There are more than 560 EV charging points in the borough of Wandsworth – including just under 400 ubitricity ones. Some additional chargers have also been installed on the borough's main trunk roads by Transport for London (TfL).
This number was boosted in September with the completion of a council project to install 167 sockets including every available and suitable lampost in two neighbourhoods in Battersea's Shaftesbury ward and Putney's Thamesfield ward.
By early next year another 140 lampost sockets are set to come on stream with further installations planned later in 2021. This will help the council meet its current target of delivering nearly 900 on-street charging points.
The reason these two areas in Battersea and Putney have been chosen for such a high concentration of on-street sockets is because they will both be directly adjacent to an expanded Ultra Low Emission Zone (ULEZ) expected to be in place in October 2021 and will include all areas of London within the north and south circular roads.
If the ULEZ is extended as currently proposed, all vehicles and motorcycles which enter the zone but don't comply with its emission restrictions will have to pay £12.50 a day – but electric vehicles will be exempt.
Wandsworth residents are already streets ahead when it comes to embracing electric vehicle technology. The annual number of plug-in vehicles registered in the borough has grown from 252 in 2012 to around 5,000 today – with numbers rising by more than ten per cent every three months.
This route towards emissions free motoring is also being embraced by the council, whose own fleet of cars, vans and lorries is gradually being replaced by electric versions. All will eventually go electric as suitable vehicles become available.
There are also EV choices available for those who don't need to own a vehicle but want to enjoy occasional eco-friendly motoring.
The Zipcar Flex car club includes a proportion of EVs, offering a convenient and eco-friendly alternative to car ownership, providing electric vehicles to hire by the hour, day or longer periods. Wandsworth has the highest take-up rate of car club membership in the country with more than 31,000 registered members.
Transport spokesman John Locker said: "The rapid growth in the number of charging points we have supported and overseen in Wandsworth means that running an EV is now much more of a realistic choice for our residents. Fitting sockets to so many lamposts has helped make electric vehicle ownership a realistic prospect for our residents.
"We want to be pioneers in promoting more eco-friendly and emissions free forms of transport and part of that is doing what we can to help persuade people who do need their cars to ditch diesel and petrol and go electric.
"This is just one of the measures the council is putting in place to improve local air quality."
To view a map of local charging points please visit zap-map.com. For more information about electric vehicle ownership in the borough visit www.wandsworth.gov.uk/driveelectric.
To find out more about how the council is working to improve local air quality visit www.wandsworth.gov.uk/airquality
Last year the council declared a climate emergency and unveiled ambitious plans to tackle climate change. The aim is to make Wandsworth inner London's greenest borough by becoming carbon neutral by 2030 and carbon zero by 2050. To find out more visit www.wandsworth.gov.uk/climatechange.