Decision to stage 2021 boat race in Cambridge because of Hammersmith Bridge risk branded 'kick in the teeth for Putney businesses'
Published: Friday, November 27, 2020
Councillors say they are disappointed and frustrated at the decision to stage next year's university boat race on the River Ely in Cambridge instead of its traditional route along the Thames because of ongoing safety concerns about the state of Hammersmith Bridge.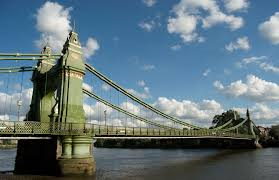 The decision to move next April's race away from the Thames means hospitality businesses in Putney will miss out on the most valuable day in their calendars – at a time when they will be looking to recover from the Covid-19 pandemic.

And with repair work to the stricken bridge at Hammersmith set to take at least another seven years it could be some time before Putney once again hosts the world-famous rowing race.

Council leader Ravi Govindia said: "This decision is a real kick in the teeth for the pubs, bars and restaurants of Putney for whom boat race day is the highlight of their year.

"Thousands of spectators normally head for Putney and this means the town centre's hospitality businesses tend to enjoy a roaring trade that day.

"Many will have been looking to use next year's race as the chance to bounce back from the impact of Coronavirus, with the hope and expectation that life will have largely returned to normal by April 2021. Those hopes have now been dashed.

"The decision also means that other high-profile rowing events must be in jeopardy. These include the annual men's and women's Head of the River Races, where again thousands of visitors spend the day in Putney.

"As is stands today we have no idea at all when the bridge will be made safe so that these river events can once again be held. The bridge was closed without warning more than 18 months ago and very little appears to have been done since then to get works started to make it safe and get it reopened.

"The paralysis and lack of progress surrounding its repair is a damning indictment on those charged with looking after it."

Hammersmith Bridge was closed to all vehicle traffic indefinitely without warning on April 10, 2019. There is no timetable in place for its reopening.
In August this year pedestrians and cyclists were banned from crossing it and all river traffic suspended from passing underneath it.
The current closure is just the latest in a series that have affected Hammersmith bridge over the past two decades.
The bridge was closed in 2014, 2016 and twice in both 2017 and 2018. It was also closed for more than a year between February 1997 and July 1998. It is the only bridge that neighbouring Hammersmith and Fulham Council is responsible for maintaining.