Hundreds of residents get involved in climate summit
Published: Friday, November 20, 2020
Wandsworth Council saw more than 650 attendees to its first annual Climate Summit.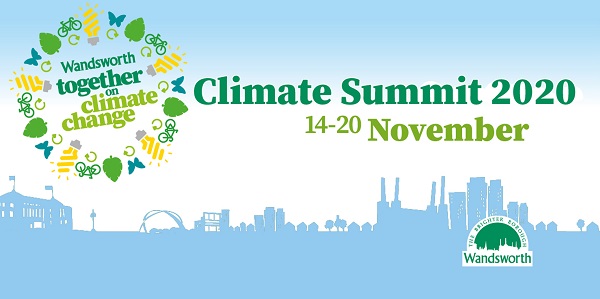 Due to Covid-19 the summit was entirely virtual, with six live council-led sessions covering various climate-centric topics including:
Why we are doing this
Waste and recycling
Greening your home
Transport
Greenspace
How to get involved locally
Seven other events led by external local and national organisations also took place. These events included sessions on 'How to reduce your carbon footprint', 'Sustainable shopping', 'Introduction to a circular economy' and 'Tackling air quality in and around schools'.  
Wandsworth's Youth Council also led a session asking a panel of councillors and Climate Change officers questions on climate change. 
External organisations, including the Chamber of Commerce, also led sessions that covered climate change in businesses, including: 'Advantages for businesses in reducing emissions and operating sustainably' and 'Developing a sustainability strategy for your organisation'. 
Cllr Rory O'Broin, cabinet member for finance, corporate resources and sustainability and guest speaker at both the first and last council-led events, said: "We have been thrilled with the success of our first climate summit and consider it a big step forward in our climate action roadmap.  
"We made a commitment in January to hold a climate summit for residents and we felt that regardless of the obstacles that Covid-19 has posed, it was important to deliver on this commitment. Moving the summit online came with its own set of challenges, but it, fortunately, meant we were able to open the summit up to a much wider audience than if it were to be an in-person event. 
"Overall, we are very pleased with what can be taken away from this climate summit and look forward to building upon our learning in the years to come." 
Other speakers at the live sessions included the Urban Birder, David Lindo, Toby Costin from CREW Energy who spoke on moving a nation towards renewable energy, and national environmental organisation Ashden which spoke about the co-benefits of tackling climate change. We also heard from Giles Read from Thinking works at the popular 'Greening your home' event. 
Meg Butler, of Wandsworth's 'Parent's for Future' chapter spoke at the popular 'Waste and Recycling' session on the importance of waste reduction. 
The summit was also a brilliant showcase of the beautiful, green borough that Wandsworth is. Two videos stood out, one of Wandsworth Common organised by Friends of Wandsworth Common chairs Julia Bott and Richard Fox who spoke with Enable's biodiversity expert Annabel Osborn.
The other video was a display of Tooting Common after its recent developments since receiving £1.4million in grant money which Wandsworth Council secured from the National Lottery Heritage Fund, the video also included some heart-warming sentiments from regular visitors of the common and those who work there.
The events with the biggest turnouts were 'Greening your home' which reached 102 attendees and a highly interactive session on 'Waste and Recycling', a topic that council and residents engage with frequently, which saw 139 people attend.
Click here to read the more on what the council is doing to tackle climate change in the borough.
Sign up to receive all the action on climate change