Borough's home composting trial scheme now getting underway
Published: Wednesday, October 13, 2021
A new eco-project to encourage home composting across the borough is gathering pace with the first recruits in a new small army of volunteers now receiving free home composting kits.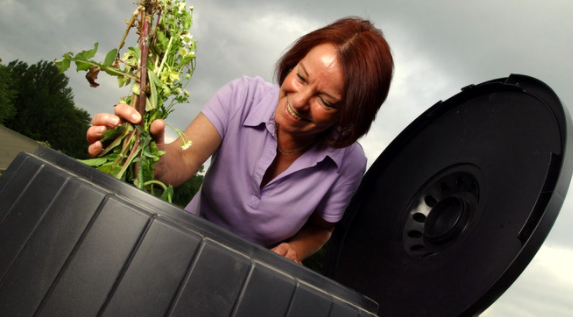 The council has enlisted the help of 114 volunteer households which have agreed to take part in a pilot scheme to test the effectiveness of schemes that divert food and other green organic waste away from household waste collections. This home composting trial is running in tandem with a separate food collection initiative involving 2,300 homes in Southfields.

Every household taking part is being given free compost kits and asked to use it for all their suitable food and garden waste. As well as a compost bin, volunteer households will receive digital luggage scales, an internal kitchen caddy and a 'bag for life' to allow them to weigh their garden waste.
By weighing how much they put in their compost bin each week, the council can evaluate how effective a wider scheme would be in diverting organic waste away from binbags.
Home composting is not only good for the environment – because it avoids all the carbon emissions associated with other forms of collection and disposal – it also helps support gardeners by creating high quality compost that returns nutrients to the soil.
Environment spokesman Cllr Steffi Sutters said: "I'm delighted that this scheme is now getting started with the first sets of composting kits now being delivered to our volunteer households.
"This trial is just one of the ideas we are looking at to see how we can better deal with the ever-growing mountain of waste produced by modern-day living
"We have always supported residents who want to compost and encouraged households to do so by negotiating special deals with manufacturers so that residents can buy compost bins and kits at a discount.
"We know that over the years many homes have taken advantage of this scheme and their gardens have certainly benefited as a result. Now we want to take this a step further and see if this process can be scaled up and whether or not much more widespread composting would be viable with council support."
The pilot scheme is part of the council's efforts to tackle climate change and one of the elements of the Wandsworth Environment and Sustainability Strategy (WESS).
Residents who would like to begin composting at home can visit www.getcomposting.com and enter their Wandsworth postcode for great deals on a range of products.