Parks and green spaces across Wandsworth to benefit from £500k investment
Published: Monday, October 4, 2021
The council is to carry out a £500,000 parks and open spaces improvement project that will see their cast iron perimeter railings fully refurbished and pathways repaired.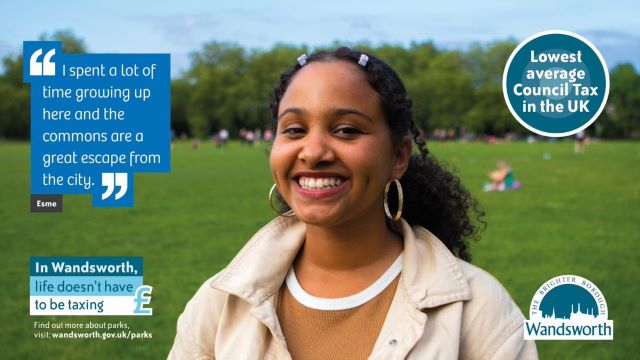 Work is currently underway at Wandsworth Common where potholes and damaged edges to pathways will be repaired and nearly 700 metres of railings will be refurbished and repainted.
Improvements are being carried out at 16 parks and green spaces across Wandsworth. Included are the borough's flagship open spaces like Battersea Park and Tooting Common, but the list also includes smaller neighbourhood parks and green spaces like Bramford Gardens, Christchurch Gardens, Latchmere Recreation Ground, Coronation Gardens and St Anne's Churchyard.
In total just under 1,000 square meters of paths and walkways will be repaired, while more than 8,200 metres of railings will be repaired and repainted – the equivalent of more than five miles.
Environment spokesman Cllr Steffi Sutters said: "Here in Wandsworth we are blessed with some of London's best parks and open spaces. From the delights and attractions of Battersea Park and our commons in Wandsworth and Tooting, to our smaller local neighbourhood green spaces, we are one of London's greenest and leafiest boroughs and we're determined to keep all of them looking good.
"Looking after our green spaces is something our residents expect and that is why I'm delighted to be able to unveil this £500,000 investment programme.
"It is through our prudent and sensible management of our budgets and finances that we are able to pay for important infrastructure projects like this."
Parks that will benefit from refurbished railings are: Huguenot burial ground, Garratt Green, King George's Park, Wandsworth Common, Wandsworth Park, St Anne's Church Yard, Christchurch Gardens, Bramford Road, Coronation Gardens and Battersea Park East Carriage Drive.
Those to benefit from pathway repairs are: Latchmere Recreation Ground; Battersea Park's Albert car park, Chelsea Gate, Chelsea Field and riverside walk, King Georges Park, Wandsworth Common Northside and Westside, Heathbrook Park, Suffolk Hall Open Space, Wandsworth Park, Tooting Common's West Drive, Wandsworth Common Station entrance and Garratt Lane Burial Ground.