School readiness programme helps younger children bounce back from pandemic's missed learning opportunities
Published: Thursday, October 7, 2021
More than 120 younger age children across Wandsworth have benefited from a specially arranged council post-lockdown programme to help them get prepared for school and nursery.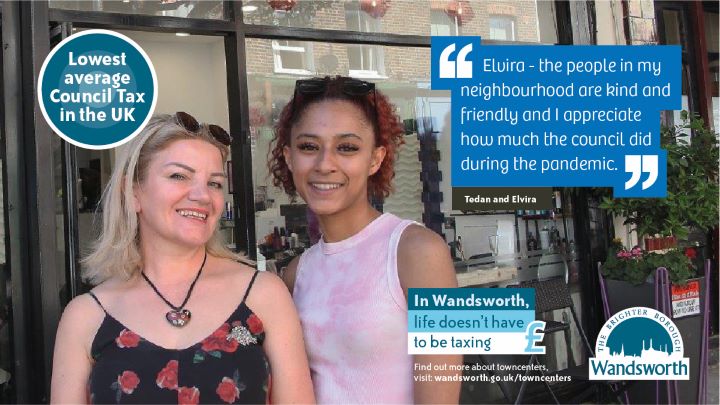 Children of all ages have suffered during the pandemic, particularly from the loss of educational opportunities, but while the focus is often on older children facing exams, the lockdown has also affected pre-school age groups who have not enjoyed the learning, playing and socialising experiences of nursery and pre-school play groups.
But this has not been the case for the families of 120 children in Wandsworth who have enjoyed special sessions designed to get them ready for nursery and primary school. A 12-week School Readiness Programme has supported these children by helping them adjust to the new world of nurseries and reception classes.
Many had missed most of their nursery year which would mean going straight into reception classes. And some of those about to start nursery wouldn't have had the experiences of socialising with other children from attending stay and play sessions at children's centres, thanks to Covid.
To help these children get ready for their next steps towards schools and learning, Wandsworth's children's services team devised a programme for the borough's most vulnerable families, delivering support from speech and language therapists, educational psychologists and health visitors among a range of educational and care professionals.
The weekly sessions were offered at nine children's centres, with parents staying until a short separation towards the end of the programme. The children were able to develop their independence, play together, make their own choices, develop their communication and language skills, enjoy physical opportunities and get used to routines. A key element was an outdoor learning focus which took parents and children out to explore the natural environment and enjoy playing and learning outside.
Director of children's services Ana Popovici said "It is so pleasing to hear that children who engaged with this council programme have made progress in all the prime areas of learning, and also how their independence grew and friendships developed.
"We know that these opportunities to play and interact with other children were missed as a result of the pandemic, so to witness such impact over such a short period of time is wonderful. I am even more proud of the feedback received from parents, who were delighted in the changes they had observed in their children."
Feedback from parents who took part included:
"My child runs in to nursery in the morning. She's really confident and enthusiastic. The nursery has said that she interacts with the other children well. The School Readiness programme helped her with the routine and structure. It prepared her for nursery."
Another said: "When we were offered the opportunity to do the programme, we took it. I took the girls every week and it really helped them. I was even able to leave the room on the last session and they learned that Mummy is coming back. Seeing other children and engaging with them was amazing. On their first day at nursery, I thought they'd have to call me to come and pick them up, but they had the best day. It was very reassuring for me. To offer us a place on the programme felt like a gift from above."
One mother insisted: "The programme helped her understand the concept of school. She was excited to start, and the programme helped her with that. It was hard with covid happening and being at home. In the programme she bonded with one particular girl and that was so nice to see. By the end, she was definitely ready to go to nursery. The routine helped her. Now she wakes up early and gets dressed by herself. She's more ready than me! She is exhausted by the end of the day though!".
Another added: "C is very happy in nursery. He settled very quickly and is loving it. Having his sister there helps a lot. I think the School Readiness programme did a great job and helped a lot. Keep up the good work!"
A teacher at a reception class in Putney said: "One child was very shy. His home language was Spanish. It took him some time but by the end of the School Readiness programme, he was speaking in short sentences in English. He started taking a lead in his learning which we followed. He showed us that he was interested in animals and he loved singing. He even became a helper during the sessions because he knew the routine."
Wandsworth's cabinet member for education and children's services Cllr Will Sweet added: "This was an innovative and carefully prepared programme of support to help vulnerable children get ready for school and the start of their next steps in life. I'm absolutely delighted it's been so well received by parents and teachers alike."