Be the success story this Stoptober
Published: Wednesday, September 29, 2021
Stop smoking for good by signing up for the 28-day Stoptober challenge.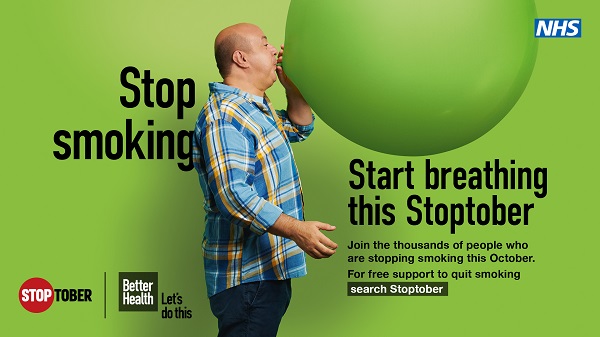 The Stoptober campaign, which runs throughout October, shows that you are five times more likely to stay smoke-free for good if you can stop smoking for 28 days.  
In Wandsworth, almost 12,000 people have quit smoking in the past ten years, and smoking levels are below the London and England average, but there are still around 30,000 smokers in the borough.  
The pandemic means it is more important than ever to look after your health. As well as potentially increasing the severity of Covid symptoms, smokers are also at a much higher risk of developing cancer and conditions such as coronary heart disease, chronic respiratory problems, heart attacks and strokes. In 2019, 1,654 Wandsworth residents were admitted to the hospital for smoking-related reasons.
This year is the campaign's tenth anniversary. In total, around two million smokers have used the campaign to make an attempt to quit.  People who use stop smoking aids and get face-to-face support from their local stop smoking service are up to four times more likely to quit successfully.
Yvonne Heath was one of the success stories from the past ten years; she smoked 20 a day for 50 years before finally deciding to stop after a six-week course at the stop smoking clinic at St George's Hospital.
"Smoking has an impact on all areas of your life, but I didn't even realise it at the time because I was walking around in a cloud of smoke. I feel so much better now, and my grandchildren tell me how much fresher my house smells." 
In Wandsworth, you can get free expert advice from local stop smoking services. Wandsworth Council provides a free Stop Smoking service where you can access confidential advice and support from specialist advisors and free stop smoking cessation medications such as Nicotine Replacement Therapies: patches, inhalators, mouth sprays, lozenges, etc. or if you choose to quit by vaping. 
In addition, you may visit the NHS Better Health website to get a free personal quit plan, read up on stop smoking aids, find local services and download the free NHS Quit Smoking app or sign up for daily email support, get linked up with an online support community on Facebook or talk to a trained advisor via the Smokefree National Helpline .
The council's health spokesman Clare Salier said: "it's very hard to stop smoking, but it's the single most beneficial thing you can do for your health. Please take this opportunity to get support and make this the quit attempt that succeeds."