Wandsworth is open for business with new Tube connections
Published: Wednesday, September 22, 2021
Local businesses in Wandsworth are looking forward to the increased footfall and opportunities that the new Tube links at Battersea Power Station and Nine Elms will bring.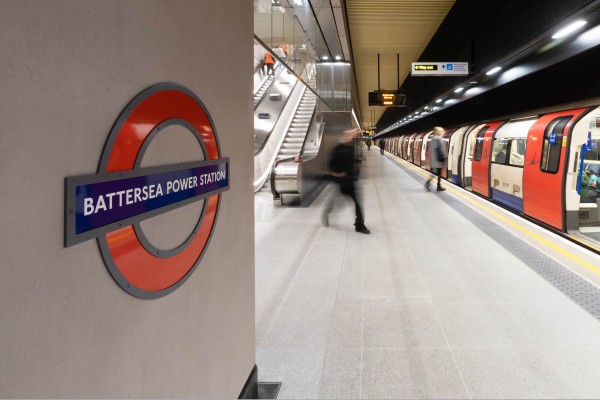 The newly-opened Northern line extension is now providing a fast, high-capacity transport connection to support the increase in numbers of residents and businesses based here. The new Tube has brought the West End and City within a 15-minute journey from Battersea Power Station.
The development area, which stretches from Battersea Park up to Vauxhall, will deliver 25,000 new jobs available in sectors including hospitality, commercial, services and cultural venues. Located within London's Central Activities Zone, 6.5m sq ft of new commercial space is opening up as part of the mixed-use neighbourhood now taking shape.
New shops and offices are opening their doors as developments are completed. Current Wandsworth employers including the US Embassy, Penguin Random House and New Covent Garden Market will soon be joined by new shops, offices and Apple's London HQ opening at Battersea Power Station next year.
Councillor Rhodri Morgan, Wandsworth Council's economic development spokesman said: "The Tube opening marks a crucial stage in the development of the area as it transitions from a development zone to a commercial destination.
"As well as bringing new employers into the area we want our local businesses to grow and prosper as a result of these new transport links, creating jobs and opportunities for people who live and work in Wandsworth."
Steve Pinto, Chief Executive of the Wandsworth Chamber of Commerce said: "Wandsworth Chamber is delighted to see the opening of the Northern line extension. The new underground stations in Wandsworth and Nine Elms will be a huge boost to the borough and we expect to see many benefits for commerce as a direct result of this exciting new infrastructure.
"We congratulate Wandsworth Council and the many development partners who made this happen. Wandsworth Chamber has been involved in helping to open up the local supply chain in this development area from day one and this is a magnificent milestone for the borough, for our residents and businesses."
Hundreds of small and medium sized organisations that are already doing business in the area now also have the opportunity to expand and build their customer base.
Local independent coffee shop, District, recently moved to a larger unit in Embassy Gardens to grow their business as more residents moved in and offices opened up in the area. Barista Sam said the new Tube would help staff get to work more quickly as well as attracting new customers. 
Meanwhile, Wandsworth film company Chocolate Films are looking forward to moving into their new workspace in Nine Elms as the new Tube link will help their creative team get to work more easily.
Visit the Wandsworth Work Match website to fill vacancies or find a new job
Plan your Battersea journey with the TfL journey planner