Schoolchildren ask questions about faith
Published: Thursday, November 21, 2019
Pupils from Wandsworth secondary schools attended this year's town hall Faith Direct event to fire a series of questions at representatives from the borough's different faith groups.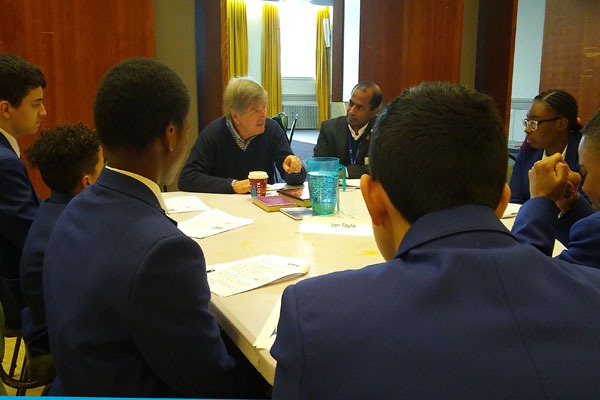 The Faith Direct initiative, organised by the council and the Wandsworth Multi-Faith Group, brought together speakers from local Muslim, Christian, Methodist, Sikh, Jewish, Baha'i, Humanist and Buddhist communities.
Faith Direct aims to increase young people's knowledge of the different faiths and beliefs practised in the borough, promote understanding, tolerance and respect and offer an open forum for dialogue.
The event was opened by the Mayor of Wandsworth, Cllr Jane Cooper, who said: "Studying religious education is so important for understanding the communities and backgrounds our friends come from. It promote awareness, enables learners to combat prejudice and creates a more tolerant society."
The young people were given a fact pack in advance summarising each belief, and then conducted a whistle-stop tour round the room interviewing each representative in turn. The questioning lasted 15 minutes before a bell was rung and the students moved on to the next table.
Chioma from Saint Cecilia's said: "It's given me a wider intelligence about all the different religions. I've learnt a lot about them that I didn't know before." In the video below 13-year-old Emerson from St John Bosco explains what he enjoyed about the event. 
This year, for the first time, religious education co-ordinators from primary schools were invited to take part. They also moved from table to table meeting faith leaders and asking questions.
Sally Martin and Asma Jugeeb from Furzedown school, Hannah Bolton from Sheringdale and Sharon Cunningham from St Michael's said they would take what they had learnt back to their pupils, and had made valuable contacts to help create better links with faith leaders. "It's been really good to meet the different faith leaders and get the opportunity to invite them back into our schools."
This year's event also featured entries by pupils from Furzedown Primary school into a schools' poster competition run by the Baha'is of Wandsworth to mark the bicentenary of the birth of the Bab – an important figure in their faith.
The Wandsworth Multi-Faith group first met in 2002 in response to the 9/11 attacks. It meets three times a year and reflects the main faith communities in the borough. Find out more about the work of the multi-faith group at www.wandsworth.gov.uk/faithgroup.
Notes to Editor:
The faiths were represented by:
Bishop Noel (Yahweh Christian Fellowship), Ros Hollingsworth (St John's Methodist Church), Imam Khubaeb Raja (Balham & Tooting Islamic Centre). Dr Mujib Khan (London Mosque & Islamic Cultural Centre), Mohammad Asim (London Mosque & Islamic Cultural Centre), Shirin King and Shanta Chellappoo            (Baha'I Faith), Jon Fayle (Humanists UK), Ajaib Singh Bahra (Sikh), Sharon Coussins (Wimbledon Synagogue) Kamontip Evans, Daorung Truss, Phramaha Taweesin and Phra Panya Kaiyasit (Buddhapadipa Temple, Wimbledon).