Children's play equipment unveiled at Tooting's Fishponds playing fields
Published: Thursday, October 3, 2019
Young children in Tooting can now enjoy brand new play equipment in a local neighbourhood green space for the first time.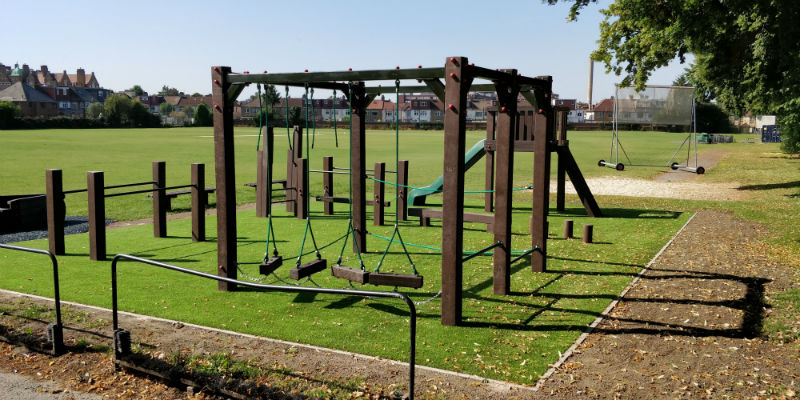 The play equipment, suitable for children aged between two and 11, has been installed at Fishponds playing fields.

The equipment uses recycled plastics and has a natural timber look. It includes a climbing tower with slide, a play boat and an activity trail with a 'wobble log' bridge, stepping stones, parallel bars and a balance beam.
It has been installed in a part of the playing fields that does not affect the existing sports pitches which remain available for use by local schools and sports clubs.
And following consultation with local residents, the playing fields are now kept open for longer hours so that the local community can enjoy this neighbourhood open space.
Previously the gates to the playing fields – which are bordered by Fishponds Road, Hebdon Road and Broadwater Road - were only unlocked to accommodate sports clubs that had booked pitches there.
Now the play equipment can be enjoyed by children in the area between 7am and 3pm on Mondays, Tuesdays, Thursdays and Fridays; between 7am and 11am on Wednesdays and 9am to 4pm at weekends.
The gates will remain locked at other times. People are also being advised that dogs are not permitted on the playing fields at any time.
Parks and open spaces spokesman Cllr Steffi Sutters said: "This is an important but underused green amenity space that could be of much greater benefit to young families in this part of Tooting.
"I'm delighted with its exciting new children's play equipment and especially thrilled it has been manufactured from recycled plastic. I'm sure it will prove popular with local people especially now that the playing fields are open for use for much longer periods throughout the week than has historically been the been the case."
The £38,500 worth of improvements at Fishponds are just the latest in a long list of neighbourhood projects funded by the Wandsworth Local Fund (WLF) which distributes cash levied by the council on new developments in the area to help pay for community and neighbourhood infrastructure improvements.
Over the past three years around £7.5m in WLF money has been spent on local improvement initiatives including schemes to support safer communities, employment opportunities for young people, better pavements and improved playgrounds.
A new guide has been published offering local people advice on how they can nominate community schemes for funding. It's available at all local libraries or can be read online at www.wandsworth.gov.uk/WLF.