Consultation now open on plans for new Tooting 'pocket park'
Published: Tuesday, October 29, 2019
People can now have their say on plans to create a new green open space in Tooting's Mellison Road.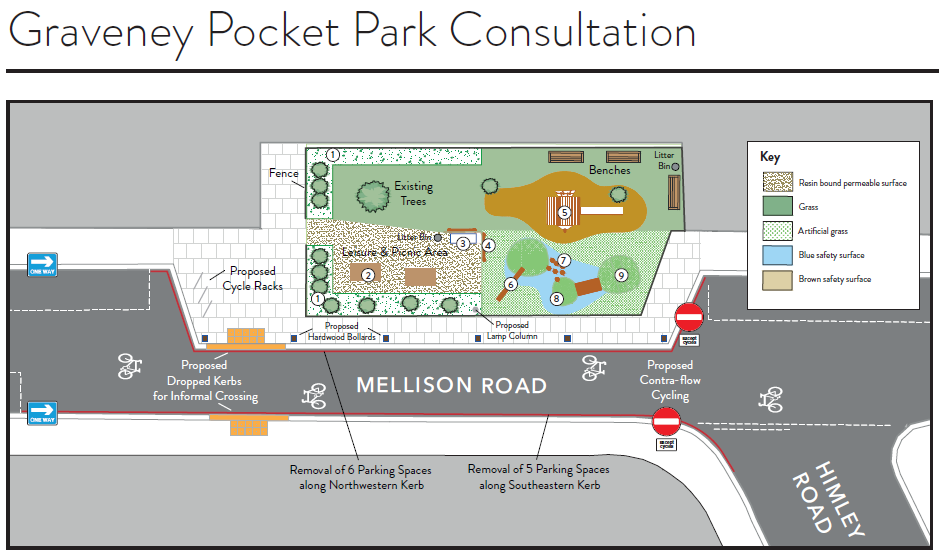 A public consultation is now underway asking for views on proposals for a new pocket park, complete with trees, shrubs, seating, a picnic area, bike parking and play equipment for younger residents.
And to ensure it would offer visitors greater peace and tranquility, the plans call for this short stretch of Mellison Road to be made one way only to traffic, but with a cycle contraflow system to encourage cycling.
People living in the area are about to receive consultation letters outlining the scheme and asking them for their views. Nearly 1,400 letters will be sent to nearby addresses inviting residents to take part in an online consultation.
If approved the pocket park would be located on a stretch of Mellison Road, next to the Gravenel Gardens estate and opposite the junction with Himley Road.
It would cover an area up to 240 square metres and include land currently used as parking spaces.
The council's cabinet member for strategic planning and transport Cllr Paul Ellis said: "We think this part of Mellison Road would be a perfect spot for a new green community space.
"If local people signal their approval we could rip up the existing tarmac and replace it with grass, trees and shrubs.
"It has the potential to be a wonderful little green oasis, providing local people with a place to relax and unwind and hold community events, while installing play equipment here would be great news for young people and their parents and provide a real focal point for families in the area."
The consultation will continue until December 7 and will be accompanied by two face-to-face drop in sessions where residents can make suggestions, have their questions answered and find out more about what's being proposed.
These two drop-in sessions will be held at The Sea Cadet Corps Hall in Mellison Road on the following dates:
Thursday, November 7, between 4pm and 6pm
Sunday, November 17 between 4pm and 6pm.
If people are unable to attend these sessions but would like to contribute their ideas and suggestions they can email these to diana.rocha@richmondandwandsworth.gov.uk.
People who would like a paper copy of the consultation should email consult@wandsworth.gov.uk.