Dawn raids lead to six arrests in crackdown on loan sharks
Published: Wednesday, October 23, 2019
Six people have been arrested during a joint operation to tackle illegal money lending across three south west London boroughs.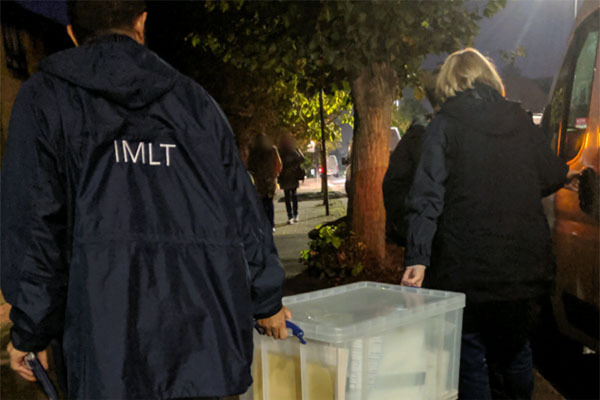 In a series of raids led by the England Illegal Money Lending Team (IMLT) and supported by trading standards and consumer protection teams from Wandsworth, Richmond and Merton Councils, officers from the Met Police seized large quantities of cash, documentation and electronic devices.
Five women aged 27, 46, 63, 65 and 68 and one man, aged 68 were held on suspicion of illegal money lending and money laundering offences.
They were arrested at six residential addresses in Mitcham and Wandsworth yesterday morning.
Tony Quigley, Head of the Illegal Money Lending Team, said: "Loan sharks are notorious for targeting people when they are at their most desperate – exploiting and profiting from their situation and threatening and intimidating victims.
"We will continue to work with our partner agencies to ensure loan sharks operating in London are identified and their unscrupulous activities stopped."
Wandsworth Council's community safety spokesman Cllr Rory O'Broin added: "We strongly support the work of the Illegal Money Lending Team and their ongoing efforts to tackle unscrupulous lenders and loan sharks who pose such a threat to some of the most vulnerable members of society.
"Here in Wandsworth we've helped set up a local credit union so that people on low incomes who find themselves excluded from mainstream banks and credit companies can obtain an affordable, safe and ethical loan. Our advice would always be to contact the credit union and steer clear of the sharks."
The arrests were part of a nationwide government crackdown on loan sharks.
An estimated 310,000 households across the country are in debt to a loan shark. These criminals usually appear friendly at first but quickly trap their borrowers into spiralling debt
Nationally, Illegal Money Lending Teams have secured more than 394 prosecutions for illegal money lending and related activity, leading to nearly 480 years' worth of custodial sentences. They have written off £74.9 million worth of illegal debt and helped over 29,000 people.
The Illegal Money Lending Teams in England, Scotland and Wales work alongside the Financial Conduct Authority (FCA) to investigate those operating within the consumer credit market without the appropriate authorisation.
The Illegal Money Lending Teams in England and Wales work in partnership with local Trading Standards Authorities in their related countries. They consist of specialist officers who investigate and prosecute illegal money lending and related activity and LIAISE officers who support victims and raise awareness of the dangers of borrowing from illegal money lenders.
To report a loan shark, call the 24/7 confidential hotline on 0300 555 2222, text a report to 078600 22116 or visit the website www.stoploansharks.co.uk.
For more information about the Wandsworth Plus Credit Union visit https://www.wandsworthpluscu.co.uk/