Get protected against flu
Published: Thursday, October 31, 2019
Wandsworth residents at greatest risk from flu are being urged to get a free vaccination.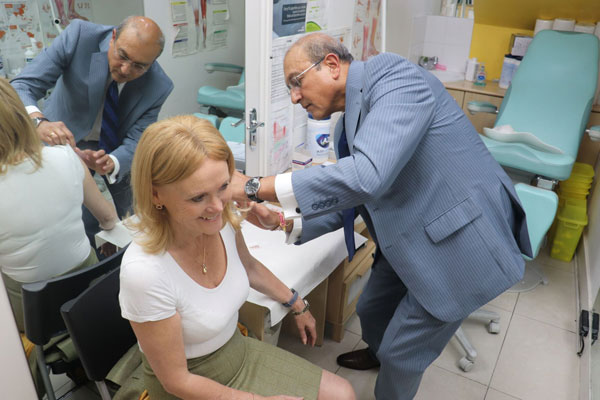 Flu is a highly contagious virus that anyone can catch and it can be a really serious illness for some people.
The council and the Wandsworth Clinical Commissioning Group (CCG) made up of local GPs are supporting this year's Stay Well This Winter campaign.

Cllr Melanie Hampton, Wandsworth Council's cabinet member for adult social care and health, went to Husbands Pharmacy in Putney to get her jab from pharmacist Raj Vara. She said: "Please protect yourself this winter and stay healthy for yourself and your family. It only takes a couple of minutes to get the jab and it really works.
"You can go to your GP or, if it's easier for you, your local pharmacy. If you are entitled to a free jab your pharmacist can also process the forms for you then and there."
Dr Nicola Jones, a local GP and Chair of NHS Wandsworth CCG added: "If you are a parent of a 2-3-year-old it is so important you contact your GP practice and book in your vaccination appointment to protect your child from flu. If parents don't get their children vaccinated, then many toddlers in Wandsworth are at risk of becoming ill with the flu. It can be a very unpleasant illness for children with potentially serious complications including bronchitis and pneumonia.
Schoolchildren in reception and years 1-5 will be offered the vaccination, which in children is given via a nasal spray. Younger children can get the vaccination via their GP.

If your child missed the vaccination at school, you can still get it catch-up clinics on November 14, December 19 and January 8 at York Gardens Children's Centre. Contact the immunisation team at hrch.immunisationteammailboxwandsworth@nhs.net.

Free flu jabs are also available for people with long term health conditions, people who have a suppressed immune system, pregnant women and everyone aged over 65. People in receipt of a carer's allowance are also eligible for a free flu jab to help them protect the people they care for.

Find out more about flu vaccinations in Wandsworth at www.wandsworth.gov.uk/flu.