New street cleaning contract goes greener
Published: Friday, October 18, 2019
A new eight-year street cleaning contract will see an improved service and greater commitments to protecting the environment in Wandsworth.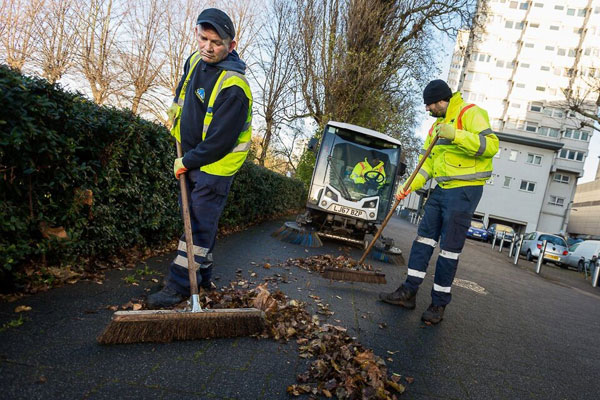 The contract with Continental Landscapes ltd (CLL) will also include improved working conditions, staff development and a guaranteed number of apprenticeships. All vehicles including mechanical sweepers will be issued with mobile devices to enable them to respond quickly to reports of flytips.
CLL has been cleaning Wandsworth's streets since 2013. In 2018/19 97 per cent of streets were cleaned to an acceptable standard.
In support of the council's commitment to tackle climate change, the amount of carbon dioxide, nitrogen dioxide and particulate matter produced by the street cleaning process was reduced by more than 45 tonnes in 2018 compared to the previous year.
Other carbon reducing measures have included a greater use of Skype meetings and car sharing and cycle to work schemes for staff.  Going forward, CLL will invest more than £2m on a new fleet of vehicles and sweepers that comply with the upcoming Ultra Low Emissions Zone, will reduce emissions and use less fuel.
As an employer, CLL has stated a continued commitment to training and developing its workforce, continuing to give staff annual pay rises above the National Joint Agreement – the framework used by local government setting out agreed pay and conditions for employees and where at least five per cent of the workforce will be under apprenticeships.
Cabinet member for community services and open spaces, Cllr Steffi Sutters, said: "I'm delighted that we will be continuing our relationship with CLL, who have years of experience and a good track record cleaning our streets.
"The use of new technology will mean our residents will benefit from even higher standards and a commitment to reducing pollution and improving pay and conditions for staff will mean there is real social value embedded in this contract.
"CLL have said they will be looking at ways to work more closely with residents on tackling litter and flytipping, so I look forward to a real partnership going forward between the council, CLL and the people of Wandsworth to keep it one of inner London's cleanest boroughs."