Paddock School tuck trolley feeds hungry council staff
Published: Thursday, October 31, 2019
Students at Paddock School have started their second year selling snacks to town hall staff as part of the school's work experience programme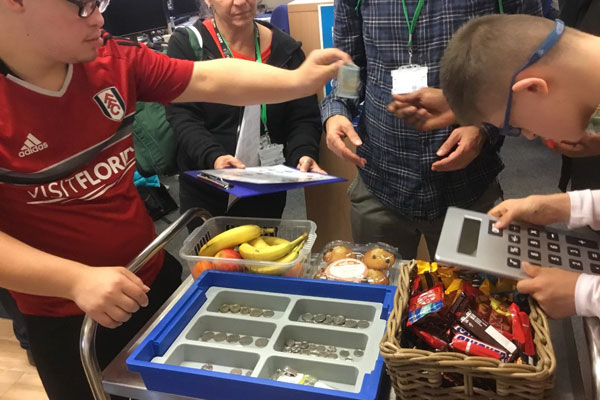 Every Tuesday and Thursday in term time six secondary students from Paddock, a school for children with autistic spectrum disorders and moderate to severe learning difficulties, sell snack food from a trolley that they push all around the seven-storey town hall extension.
They also sell birthday, Christmas and other greetings cards that they make themselves at the school. They use visual supports when they arrive at the town hall to set up the trolleys and remember the prices of the items.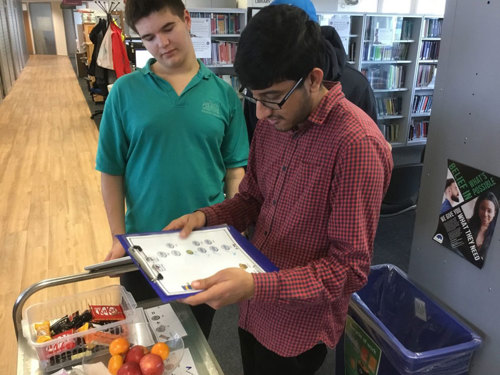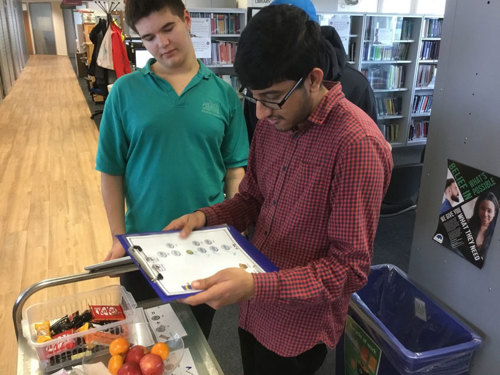 Many of the staff working in the town hall extension work for the council's schools department, including HR, catering and support for the borough's special schools.
The council's cabinet member for education and children's services, Cllr Will Sweet, said: "I know staff enjoy meeting some of the young people they help and love watching their confidence and social skills develop. We love having them and we hope that they and the school continue to benefit. Thanks to all the students, teachers and staff who are making this such a success."
Class teacher Victor Carrizosa Exposito said parents enjoy seeing photos and videos of what their children get up to. "It's amazing to see how students are motivated by selling items to the council staff and how their confidence has increased when communicating to peers and customers."
Comments from the children themselves include "I love going with the tuck shop every Thursday", "I like selling cards that we make at school", and I like to take the bus to go to the tuck shop with my teachers."
If any other company or organisation would like to offer work experience to students of one of Wandsworth's special schools, contact the council's SEN and disability information manager Eleanor Thain at Eleanor.Thain@richmondandwandsworth.gov.uk
Find out more about Wandsworth's support for children and young people with special educational needs and disabilities at www.wandsworth.gov.uk/localoffer.