Protect your child and yourself against measles
Published: Wednesday, November 27, 2019
Parents are reminded that they must ensure their child is fully vaccinated if they are to be protected against measles.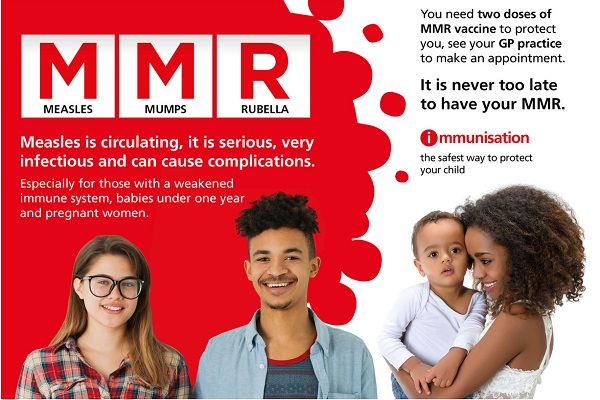 Many children who recently starting school for the first time or moved up to secondary school can be vulnerable to catching infectious diseases if they are not fully immunised.
Measles is a highly infectious and very serious disease, it starts with cold-like symptoms that develop about ten days after becoming infected. A few days later, a red-brown blotchy rash will appear. This usually starts on the head or upper neck before spreading outwards to the rest of the body. The virus can be life threatening, leading to ear and chest infections, fits, diarrhoea and damage to the brain. Figures show an increase in cases across the country including Wandsworth. 
Vaccination against measles is provided as a combined measles, mumps and rubella (MMR) vaccine that has shown to be both safe and effective. The full course of MMR vaccination requires two doses. The first injection is administered on, or within a month, of the child's first birthday and the second injection is administered before starting school (three years four months old or soon after).
Children and adults who have missed, or partially completed, the MMR vaccination can have a 'catch-up' MMR vaccine through their GP. Often children miss out on the second dose for various reasons. You or your child will not be fully immunised against measles if you or they have not received both doses.
If your child has not received the MMR vaccine or missed the second dose this can be provided by your local GP free on the NHS.
The Wandsworth School Age Immunisation Team are also able to offer the MMR vaccine. Information on this will be included in the letter all parents and carers receive when their child is in Year 8 (for the human papilloma virus vaccine) and Year 9 (for the meningitis vaccine called MenACWY, and DPT for diphtheria, polio, and tetanus).
To give your consent for your child to receive the MMR, contact your school or request a consent form from the Wandsworth School Age Immunisation Team – email hrch.immunisationteammailboxwandsworth@nhs.net or call (020) 3903 3374.
The team is also running the following catch-up sessions :
December 19 and January 9, 3.15pm-4.30pm, York Garden's Children's Centre, Battersea
They will target Year 8 and 9 but will be happy to do vaccination for children aged one year plus and young people who have missed one or both of their MMRs. For these sessions please book an appointment a few days before using the Immunisation Team contact details above.
Please see your GP if you are in any doubt as to whether you or your child are up to date with all your vaccinations – not just the MMR vaccination.
For further information on Measles and the MMR vaccine visit www.nhs.uk/conditions/measles. For more on the range of other vaccines you should receive visit www.nhs.uk/conditions/vaccinations/