Councillor welcomes Balham Station's £2.6m revamp
Published: Friday, October 30, 2020
The council's transport spokesman John Locker has welcomed an announcement by rail chiefs that Balham Station is to undergo a £2.6m revamp.
Work is scheduled to begin next month on an investment scheme designed to smarten up the station platforms, provide better weather protection and improve passenger experience.
The project chimes with the council's long standing calls on the rail companies to improve station infrastructure and improve the quality of travel for passengers.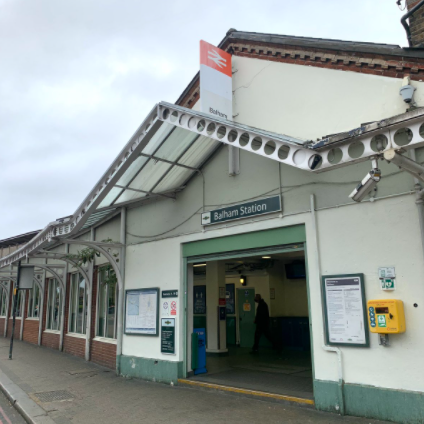 Yesterday's announcement (Thursday) by Network Rail outlined details of the improvements, which include:
• Better platform canopies with new sheeting installed
• Improved canopy gutters – utilising a new galvanised steel system
• Platform tactile paving to be replaced and upgraded
• Brand new and improved platform surface drainage system
• Existing station drainage system replaced with an updated version
Cllr Locker said: This is good news for passengers who will be offered greater protection from the elements and won't have to stand around in puddles waiting for trains.
"We welcome all measures that improve the experience of passengers especially at a busy interchange like Balham."
Work is set to begin in mid-November and conclude in the Spring.
Paul Harwood, regional investment director for Network Rail, said: "The project at Balham station will bring a range of benefits to passengers and improve their travel experience. Station users can expect to see these works completed early next year, and they will also include vegetation clearance from the surrounding area and station cleaning.
"These improvements will ensure we can continue to provide a railway which meets the needs of passengers, well into the future."
The works will involve some overnight closures of Balham Station Road to allow for the arrival and departure of heavy machinery like cranes. The council's highways engineers will be working closely with Network Rail and other agencies to ensure travel disruption is kept to a minimum.
According to the planned works schedules these closures will be in place on the following dates:
• Between 9pm Friday, November 20 and 6am Monday, November 23
• Between 9pm Friday, February 12 and 6am Monday, February 15
• Between 9pm, Friday February 19 and 6am Monday, February 22.
There will also be a single lane closure on the station side of the road on Sunday nights only between November 8 and March 7.
For more information visit www.networkrailmediacentre.co.uk