Joint council and Battersea Power Station scheme to ease digital poverty and provide laptops to local schoolchildren during Coronavirus lockdown wins prestigious award
Published: Monday, October 5, 2020
Power to Connect, a campaign launched by Battersea Power Station (BPS) and Wandsworth Council to tackle digital poverty in the borough, has won the 'Community Impact' category at the AbilityNet Tech4Good Awards.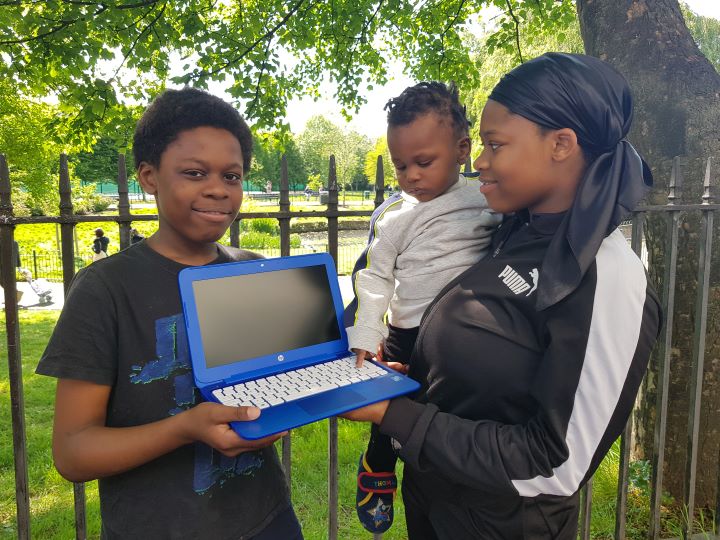 The award ceremony recognised organisations and individuals who have used digital technology to improve the lives of others.
BPS and Wandsworth Council launched Power to Connect in April 2020 to support local families struggling to home school and stay digitally connected during lockdown because they didn't have access to a computer or broadband at home.
Since Power to Connect launched, hundreds of emergency phone data top-up vouchers and wi-fi dongles, funded by a £10,000 donation from the Battersea Power Station Foundation, have been distributed to families in the borough.
BPS and Wandsworth Council have also set up a laptop and tablet refurbishment project, which collects unused laptops and tablets that are in working order, refurbishes them as Google Chromebooks with the help of volunteers and redistributes the devices to families across Wandsworth.
Isabel Oakley Chapman, Director at Power to Connect, said: "We are thrilled to have won the Community Impact award at the AbilityNet Tech4Good awards last week. The success of Power to Connect is thanks to the Wandsworth community coming together at a time of real crisis.
"Without the support of Battersea Power Station, the council, local residents who donate devices and the IT and transport volunteers who continue to give up their free time to refurbish and deliver computers the work we do wouldn't be possible. With continued support from local residents and businesses, we hope to continue to connect more families in Wandsworth throughout the COVID-19 pandemic and beyond."
Councillor Will Sweet, Wandsworth Council's cabinet member for education and children's services, said: "I'm delighted that our pioneering scheme has been recognised with this prestigious award. It is a fitting tribute to a landmark initiative that has delivered vital support to our young people's learning and education throughout the pandemic.
"We were absolutely determined to make sure no child was left behind during lockdown, which is why we teamed up with Battersea Power Station to provide laptops and mobile data top-up vouchers so that children from lower income families had all the digital tools they needed to keep up with their lessons while schools were closed."
Power to Connect recently became a Community Interest Company and has raised over £1,000 as part of a Crowdfunder campaign, which will be used to continue supporting local families and schools throughout the pandemic.
Sarah Banham, Head of Communities and Sustainability at Battersea Power Station, said: "Since launching back in April, Power to Connect has supported over 902 families in Wandsworth with over 370 devices being collected, refurbished and donated to 45 local schools. This is a huge achievement which has been recognised with the recent win at the AbilityNet Tech4Good Awards.
"There are still many more who are experiencing digital poverty and need help, especially as schools are now preparing for local lockdowns and class bubbles are having to self-isolate. We welcome more businesses getting in touch with Power to Connect if they have unwanted laptops or can volunteer technical expertise, so that we can support parents and local schoolchildren during this challenging time."

To support the 'Power to Connect' campaign through computer or tablet donations, by volunteering IT expertise or your time to collect and drop off the refurbished Chromebooks, or by making a donation to the data top-up voucher fund, further information on how to get involved can be found at https://www.powertoconnect.co.uk/
For further information on Battersea Power Station, please visit https://batterseapowerstation.co.uk/ and follow @BatterseaPwrStn to keep up to date with the latest news and events
During the COVID-19 crisis, Wandsworth Council is working hard to help residents, businesses, community and voluntary groups around the borough. Find out more at www.wandsworth.gov.uk/coronavirus