More funding for neighbourhood schemes
Published: Wednesday, October 14, 2020
More projects to improve neighbourhoods will go ahead after an agreement to allocate around £1.75m from the latest round of the Wandsworth Local Fund.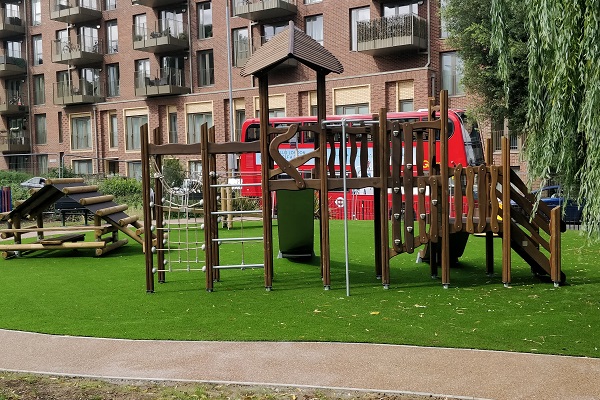 So far more than £10m has been handed out from the fund, which is a charge the council makers on local developers to fund the infrastructure needed to serve new homes and offices. Previous projects have included new and upgraded playgrounds and parks and improvements to roads, pavements and streetlighting. 
In the current financial year just over a million pounds will be spent on wave nine of the fund, with a further £737,000 to be spent in 2021/22.
Project to receive funding in this wave include:
Battersea Park Trim Trail: A new weatherproof surface will be installed under the exercise equipment so it can be used all year round.
Shillington Park Playground and Outdoor Gym: The playground and gym equipment will be replaced and part of the playground will be landscaped to create a forested area supporting a wide range of plants and animals.
St Mary's Cemetery and St Mark's, Wandsworth Common – Pollution, Biodiversity and Path Improvements:  A native mixed hedge will be planted along the perimeter of the St Mark's section of Wandsworth Common, The hedge will support greater biodiversity and help reduce air pollution.
Battersea Church Road Traffic Calming:  Traffic calming measures will be installed to reduce traffic speeds and a pedestrian crossing installed.
Battersea High Street: The grant will fund Phase 2 of the public realm improvements including replacing an existing emergency barrier and new signs.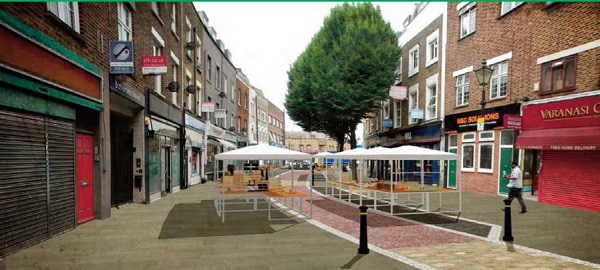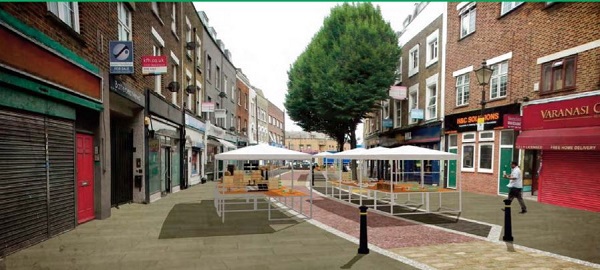 Battersea High Street proposals
Putney Vale Allotment Path Improvements:  Improvements to the path to improve access to all of the plots, as well as providing more water points throughout the site. The aim is to increase capacity and reduce waiting lists.
Wandsworth Park Playground and Grassland Improvements: The playground will get new equipment and surfacing and the boundaries extended to include more grass.  Part of the lawn/turf in the west end of the park will be turned into a meadow flower habitat.  
Dover House Parade of Shops, Upper Richmond Road Streetscape Enhancement:   The road and pavement will be repaved, more parking bays installed, including an electric charging bay, and a seating area currently associated with antisocial behaviour will be removed. This work is already well underway, with the additional grant provided to enable the project to be completed.
West Putney Area Through Traffic Study: Changes to road layouts including upgrading single yellow lines to double yellow lines in some areas. The aim is to encourage sustainable transport.
Southfields Public Realm Improvement: This project to make the shopping area more attractive and easier to access on foot and by bike is well advanced and the council will be publicising progress in more detail shortly. The additional grant will enable the project to be completed following the cancellation of an expected grant from Transport for London.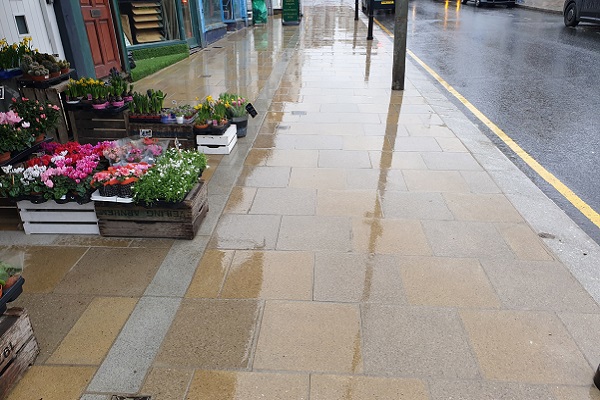 Completed repaving work in Southfields
Wandsworth Carbon Neutral CREW Energy: 'Energy cafes', a new energy helpline, green walks around schools and supporting young people to work in the environmental sector by training them to become Domestic Energy Assessors.
The council's finance spokesman Cllr Rory O'Broin said: "We are pleased that funds are available for projects suggested by local people to enhance their neighbourhoods. It is particularly encouraging that schemes funded in this latest wave of the Wandsworth Local Fund support the aims of our environmental strategy including the support of sustainable transport"
Residents are encouraged to bring ideas for neighbourhood improvements to their ward councillors to submit schemes to be considered for funding.
Find out more at www.wandsworth.gov.uk/WLF.