National campaign offers safety advice around buying and using fireworks
Published: Wednesday, October 21, 2020
With bonfire night approaching and most organised fireworks displays cancelled due to the Coronavirus pandemic, residents thinking of hosting their own back garden celebrations are being offered some helpful safety tips.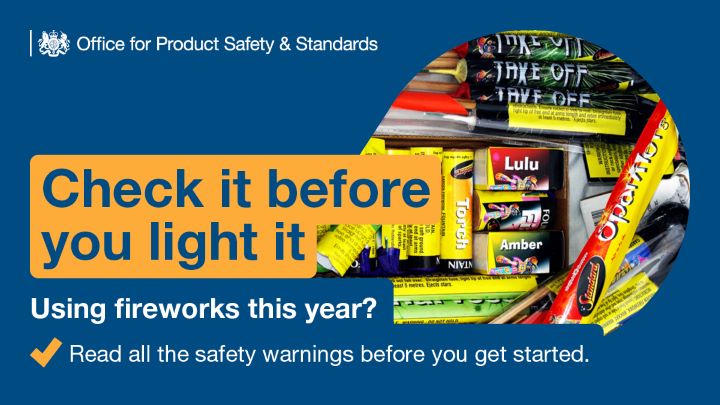 A new national campaign run by The Chartered Trading Standards Institute (CTSI) in collaboration with the Government's Office for Product Safety and Standards (OPSS) aims to raise public awareness of the need to enjoy fireworks safely and responsibly.
The campaign's core messages stress the importance of storing and handling fireworks safely, never letting children play with or handle them, the importance of buying fireworks from reputable sources and making sure they carry the approved 'CE' quality mark.
The council's consumer protection spokesman Cllr Steffi Sutters: "The pandemic means that almost all of London's big organised fireworks displays have been cancelled, and so many families may be thinking of having their own back garden celebrations.
"For some it may be the first time they've done so and they may not necessarily be used to buying or handling fireworks themselves.
"This national campaign is designed to make sure everyone – not only those gathering for Guy Fawkes night, but also those celebrating the Hindu festival of Diwali – are able to enjoy themselves while keeping their families, their pets and their neighbours safe from harm."
The key messages of the campaign are:
• enjoy fireworks safely and responsibly
• always buy from legitimate, licensed sellers and purchase products that have the CE mark
• never let children handle fireworks
• be considerate of others and observe curfews and restrictions
• keep pets safe and secure when using fireworks away from noise
• follow the rules and check local restrictions on displays
• children should never handle fireworks, tapers or matches
A helpful leaflet offering advice and guidance on staying safe around fireworks has been produced by the campaign.