Wandsworth Climate Summit 2020 Announced
Published: Thursday, October 29, 2020
The council has announced its biggest climate event of the year.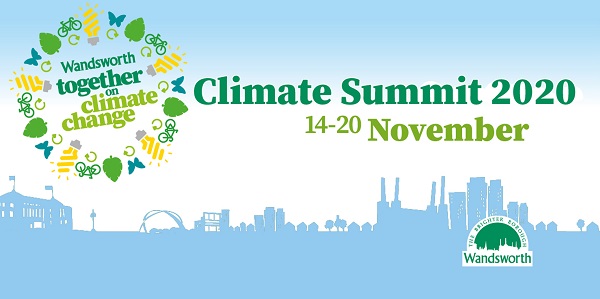 The 'Wandsworth Climate Summit 2020' will be held next month running from the 14th - 20th of November. 
Six live sessions led by the council will be hosted on Microsoft Teams across Wednesday 18th and Thursday 19th November and will cover specific climate centric topics. There will also be locally led events that will be promoted throughout the week.
The live sessions will bring together representatives of the council, residents, community groups and organisations to discuss key issues surrounding climate change in Wandsworth, and how we can all work together to make a practical difference.
The topics covered are: 
why are we doing this (introduction to climate change in the borough), 

recycling and waste, 

greening your home, 

transport,

greenspace and

how to get involved locally.
 Cllr Rory O'Broin, Cabinet Member for Corporate Finance, Resource and Climate Sustainability, said: "This summit presents a fantastic opportunity to have an open discussion around climate change and for all those who live, work and play in Wandsworth to get a better understanding of what we can all to do help reduce the carbon footprint of our borough. 
"We have set ourselves ambitious targets of becoming carbon neutral by 2030 and it will not be possible without the help of the wider community." 
"I encourage all those interested in climate change, or who just want to learn more, to come along to our live sessions. I look forward to what I believe will be both an engaging and constructive event."
To find out more about the council's roadmap to help combat climate change in the borough read the Wandsworth Environment and Sustainability Strategy (WESS).
Book your space at the 'Wandsworth Climate Summit 2020' through the links below: